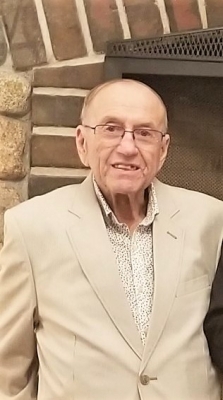 Lyle M. Hofacker, Plum City, WI, devoted husband and father, educator, landlord and farmer, died peacefully in his home on Sunday August 11, 2019 with his beloved wife, Theresa (Terri) and his devoted son, Erick, and daughter-in-law, Lisa, at his side.
His gentle and optimistic spirit never wavered during his 20-month struggle against pancreatic cancer. Even with his own struggles, during his time in the hospital, his hospital room was always a hub of activity as he welcomed numerous friends and family to visit. The nursing staff often commented on how many people cared about him and loved him, based on the sheer size of the number of visitors he had. During his last couple of weeks at home he enjoyed spending time in the fresh country air with his pets, riding around the countryside and viewing his farms, and entertaining guests during a welcome home party from his last visit to the hospital.
Lyle was born in Elmwood, WI on April 14, 1939, the son of Margaret Laschinger Hofacker and Alfred Hofacker. When he was 14 years old, he needed to shoulder extra responsibility after his father died at age 48 of asthma, leaving his mother to run the family farm and to raise Lyle and his brother, Leon, and his four sisters, Lois, Lila, Lucy and Lita.
His proudest moments were his marriage to Theresa Chowanec of Cudahy, WI on August 8, 1964, and the birth of their son, Erick, on February 17, 1975.
His early schooling was at Exile Country School and Elmwood High School before going to college in River Falls, his mother's alma mater.
Lyle was a proud graduate of Wisconsin State College at River Falls, now University of Wisconsin – River Falls (UWRF), in 1960, having earned a bachelor's degree with majors in Mathematics, Chemistry, and Education. He returned to UWRF as a graduate student and completed all of the required graduate credits towards earning a master's degree.
In college, Lyle was active in the Young Democrats Club which fostered a keen lifetime interest in clean government and his view that politics should represent the people and not pander to the interests of a privileged few. Lyle's work in the Young Dems lead to him being invited to Washington D.C. in 1963 to attend both the funeral for President John F. Kennedy, and the inauguration of President Lyndon B. Johnson.
Lyle began his 20-year teaching career teaching mathematics at Richland Center High School. He then moved to Menomonie, WI where he taught at the High School. From there he moved to the southeastern side of the state of Wisconsin. While there he first taught at Franklin High School for a few years before making his final move to teach at the post-secondary level at Milwaukee Area Technical College.
Lyle was very patient with his students and loved seeing them succeed with their mathematical understanding as well as seeing them grow as people. Lyle's favorite mathematics course to teach was Geometry, as he often taught five or six sections of the class. He was an active member in many professional educational organizations. He attended mathematics conferences across the state including the Annual Wisconsin Mathematics Council conference in Green Lake, WI. Lyle was also a great negotiator as he was often involved in negotiating salary and benefits for those teachers in his district, as well as across the entire state of Wisconsin. In addition to teaching mathematics, Lyle also enjoyed teaching driver's education. He prepared many future drivers to get behind the wheel and drive for their very first time.
In addition to teaching, Lyle also loved real estate and being involved in multiple business interests. Over the last 50 years both Lyle and Terri have owned and managed several rental units on both the east and west sides of the state, working with thousands of people over this stretch of time. In addition to this he ran a snow plow service for many years on the south side of Milwaukee, as well as three laundromats in western Wisconsin.
His occupations and interests represented a balance between urban and rural life. While enjoying his educating, real estate management, and other businesses in Milwaukee, the nostalgia of his childhood country roots drew him back to Plum City where he and Terri became engaged in farming. For multiple years Lyle taught in Milwaukee during the week; and flew back to Plum City on the weekend to work on the farm. It led many to wonder if Lyle ever slowed down or slept. Lyle continued this rigorous pace until 1981, when he gave up teaching professionally to concentrate on his businesses and the farms.
In addition to running his own farmland, Lyle worked for many other farmers around the countryside performing custom combining jobs. Lyle continued to plant and harvest his own corn and soybeans up until the last three years. Even after he gave up running the land himself, he still loved planting asparagus, raspberries, purple potatoes, and other various fruits and vegetables. He loved the harvest time, as he continued to harvest berries, apples, and Asian pears from the orchard he had developed over the last 25 years. In May, 2019 he celebrated 30 years of running and operating his white-tail deer farm, something he gained immense pleasure and peace from.
Lyle was always concerned with the welfare of others, often putting that ahead of his own needs and wants. Lyle provided support, encouragement, and assistance for others in any way he could. Lyle was a firm believer of providing opportunity to others and wanting to see them succeed in whatever endeavor they pursued. Lyle was always a hard worker and instilled that work ethic in people he trained and those he worked with. He loved what he did, and just got things done, without complaint, no matter how large or impossible the task appeared to be.
A special joy to Lyle was having his son, Erick, follow in his footsteps by attending UWRF, selecting a career in mathematics and going on to become a professor of mathematics at UWRF. A major occasion of parental pride was experienced on May 2, 2019, when Lyle and Terri, along with Erick's wife, Lisa, were privileged to be invited to Green Lake, WI to observe Dr. Erick Hofacker receive the 2019 Distinguished Mathematics Educator Award for the State of Wisconsin. Lyle was discharged from his hospital bed the day before, just in time to attend this special award ceremony. Many observers noted how he exuded such great happiness and pride throughout the ceremony.
Although he enjoyed living in both the peaceful country and busy urban parts of the state of Wisconsin, Lyle also enjoyed various travels across the country. Some of his favorite destinations over the last two decades have included: Las Vegas, New Orleans, San Antonio, and San Francisco. Lyle and Terri often traveled with Erick to many of these destinations when he presented at national mathematics conferences. During his battle with cancer, Lyle often expressed his desire to continue traveling, which he was able to do so multiple times over the last year.
Lyle is survived by his wife, Terri, son Erick, daughter in-law Lisa; his sisters Lita Hofacker and Lila Bates, and numerous other cherished family and friends from across the state and around the country. Preceding him in death are his parents Alfred Hofacker and Margaret Laschinger Hofacker, sisters Lucy and Lois, and brother Leon.
Lyle's family expresses deep appreciation to Father Paul Czerwonka for his friendship, spiritual guidance, kindness and visits. In addition the family would like to thank the following people that have provided, treatment, support and encouragement over these last 20 months: Dr. Sameer Batoo (oncologist), Dr. Chris Roberts (internal medicine), all of the doctors and nurses at both Luther Hospital (Eau Claire) and Red Cedar Hospital (Menomonie) that worked with Lyle, all of the people we have met at the cancer center at Luther Hospital, the team of professionals that worked with Lyle at the care centers, the team of professionals from St. Croix Hospice, Father Jerry Harris (St. Bridget's Catholic Church), and all of the great family and friends that visited, encouraged, and prayed for Lyle during this challenging time.
Mass of Christian Burial will be 11:00 AM Saturday, August 17, 2019 at St. John's Catholic Church in Plum City, WI. Father Paul Czerwonka will officiate. Burial will be in the St. John Catholic Cemetery. Visitation will be 4:00 PM – 8:00 PM Friday evening at St. John's Catholic Church and one hour prior to the services on Saturday.
Rhiel Funeral Home and Cremation Services, Durand, is serving the family.
Condolences may be made online at www.rhielfuneralhome.com.