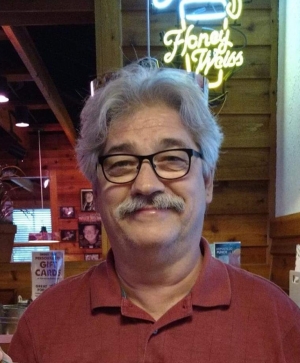 Timothy R. Hovey, age 61 of Plum City, died Sunday, October 13, 2019 at home with his family by his side.
Tim was born on September 26, 1958 in Mondovi to William D. and Esther P. (Oium) Hovey. He grew up in Durand and graduated from Durand High School in 1976. Tim married Julie Gjertsen in 1980, together they had three children; Jodi, Abraham and Matthew. They lived in various areas including, Minnesota and North Carolina. Tim worked at various places over the years, his last job was at ProAct in Red Wing working with disabled adults. He truly loved his job and the people there. Later Tim married the love of his life, Joanne Hewitt on July 28, 2019 in Red Wing, MN. Tim loved and was proud of his children but was also excited to add three more daughters to his life with Joanne's daughters.
Together, Tim and Joanne spent time in their garden, listening to music, taking trips to see family and going on ambulance runs together. Tim was an EMT for Maiden Rock/Plum City Ambulance Service for five years and his EMT family was very special to him. Music was a large part of Tim's life. He was a member of two bands, Hanging Curve and Retro Groove. Tim loved to play on his guitars and playing gigs with his band family. He loved his faith and spending afternoons over his BBQ, smoking meats and sharing stories with family and friends.
Tim is survived by the love of his life: Joanne, children: Jodi Theisen, Abraham (Carrie), both of Shakopee MN, Matthew (Samantha) of Maple Plains, MN Amanda (Matt Byrnes) Milliren of Hudson, Amy (Warren) Gavitt of River Falls, Kelsey (Jordan Dockter) Fredrickson of Savage, MN, 10 grandchildren: Isaac, Andrew, Hannah, Brewer, Soren, Hallie, Hazel, Odette, Everett and Conlin, three sisters: Penny (Dan) Bauer of Durand, Val (James) Pifer of North Carolina and Laurie (Dana) Forbes of North Carolina, two brothers: Brad (Lola) of Eau Claire and Dale of Pepin, Sisters-in-law: Debby (Junior) Kimmel of Texas and Peggy McRoberts of Durand, brothers-in-law: Billy McRoberts of Elmwood and Eddie (Carmen) McRoberts of Mondovi, nieces, nephews, other relatives and friends. He is preceded in death by his parents.
The family would like to thank Mayo Home and Hospice in Red Wing for their loving care and support. Also a heartfelt thanks to all of the family, friends and neighbors who helped with food, company and prayers.
Funeral Services will be 10:00AM Saturday, October 19, 2019 at Immanuel Lutheran Church in Plum City with Rev. Daniel Pfaffe officiating. Visitation will be Friday from 4:00PM to 8:00PM at the Rhiel Funeral Home in Durand and one hour prior to services at the church on Saturday.
Rhiel Funeral Home and Cremation Services, Durand is serving the family.