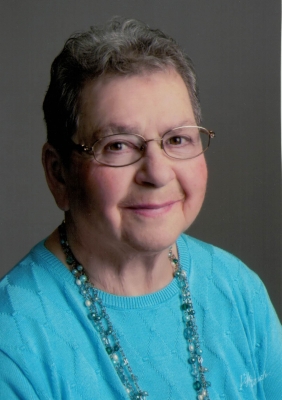 Lila M. Bates, age 84 of Elmwood, died Tuesday, October 22, 2019 at Mayo Clinic Health Systems-Eau Claire.
Lila was born on September 17, 1935 at home in rural Elmwood. She was the daughter of Alfred C. and Margaret R. (Laschinger) Hofacker. Lila grew up in Elmwood and graduated from Elmwood High School. She then attended and graduated from River Falls Teachers' College. Lila taught for a couple of years at Elmwood Elementary School. Lila married Arthur Bates in 1957. Together that union brought five children. They farmed in the rural Eau Galle and later divorced in 1993. Lila continued farming until her death.
Lila's passion was gardening and love of animals, especially her cats. Lila enjoyed being a seamstress, making clothes for family, baking and holiday lights around the house.
Lila is survived by her children; Sharon (Richard) Young of Hudson, Robert (Aggie Macdonald) of Madison, Ron (Paula) of Hudson, Mark (Jennifer) of Hudson and Jerry of Elmwood, nine grandchildren; Christine (Jeremy), Michelle (Tom), Travis, Chelsea, Alison, Derek, Madi, Quintin and Mason, great grandchildren; Harrison, Zachary and Natalie, one sister; Lita Hofacker of Elmwood, two sisters-in-law; Loretta Hofacker of Durand and Terri Hofacker of Plum City, nieces, nephews, other relatives and friends. She is preceded in death by her parents, two sisters; Lois Kuesel and Lucy Hofacker and two brothers; Leon and Lyle Hofacker.
Funeral Mass will be 11:00AM, Monday, October 28, 2019 at St. Henry Catholic Church in Eau Galle with Rev. Jerry Hoeser officiating. Burial will be in the church cemetery. Visitation will be Sunday from 4:00PM-7:00PM at the Rhiel Funeral Home in Durand and one hour prior to services at the church on Monday.
Memorials are preferred in Lila's name to Dunn County Meals on Wheels.
Rhiel Funeral Home & Cremation Services, Durand, is serving the family.