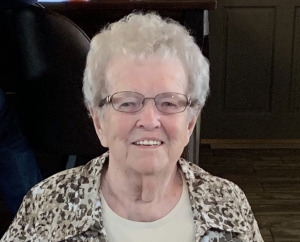 Donna Jean Lunderville age 90 of Durand died Saturday November 9, 2019 at Mayo Clinic Health System in Menomonie surrounded by her family.
Donna was born May 13, 1929 in the Township of Rock Elm, rural Elmwood She was the daughter of Frank A. and Evelyn (Gilbertson) Buchholtz. As a young girl she moved with her family to Eau Galle and grew up in that community and graduated from Durand High School. She married Sidney H. Lunderville on April 4, 1947 in Waukon, IA. After marriage they made their home in Durand and raised their family. Donna worked for V & S Variety Store, Coast to Coast Hardware, & C & M Liquidators. She also gave home care for several elderly residents in Durand
Donna loved to spend time with her children, grandchildren and great grandchildren at the cabin. She loved playing cards, gambling, fishing, watching the Packers, shopping, talking on the phone.
Donna is survived by five children, Dixie (Ed) Heit of River Falls, Jeff Lunderville, Ross (Rita) Lunderville, both of Menomonie, Tootie (Don) Sinz of Durand, Brock (Karla) Lunderville of Green Bay; 14 grandchildren, Jay (Liz), Curtis (Lisa), Brent (Andrea), Schawn, Chad (Adrian), Amy Jo, Mike (Amber), Matt (Katie), Christy (Andy), Derek (Dahee), Jed (Jenny), Jamie (Arno), Alexis (Shane) and Aubrey; 21 great grandchildren; one brother, Rudy (Marie) Buchholtz of Rochester, MN; two nieces, Courtney (Jesse) Kieffer and Collette Buchholtz.
She is preceded in death by her parents, husband Sid and a son Scott.
Memorial services will be 11:00 AM Friday November 15, 2019 at Faith Lutheran Church in Durand with Rev. Bethany Walker officiating. Burial will be in the Forest Hill Cemetery in Durand.
Visitation will be held from 4:00 to 7:00 PM Thursday at Rhiel Funeral Home in Durand and one hour prior to services at the church on Friday.