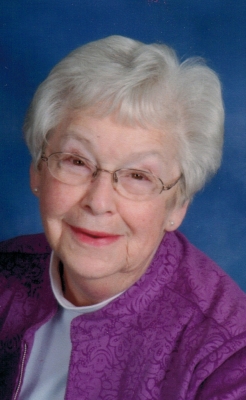 Shirley C. Melrose, 95, longtime Menomonie resident and active community member passed away peacefully on Wednesday afternoon December 4, 2019 at The Neighbors of Dunn County in Menomonie. She was well loved by many generations of people whose lives she touched and will be deeply missed.
Shirley Clare Towers was born July 20, 1924 in Bruce Wisconsin. She was the second oldest of Claire B. and E. Merle (Jones) Towers' five children. Shirley graduated from Bruce High School in 1942. She attended Abbott School of Nursing in Minneapolis, MN and became a Registered Nurse and started her career in Denver, CO. Shirley returned to Bruce Wisconsin and worked at the office of Dr. Maurice Whalen and it was here that she met Robert Melrose, the new history teacher and football coach, whose athletes' slightest injuries needed medical attention, accompanied by coach.
Shirley married Robert J. Melrose on June 2, 1951 in a service at the Bruce Federated Church, presided by Rev. Buran from the First Congregational Church in Menomonie. They moved to Menomonie in 1954, where Bob was hired to teach and coach at Menomonie High School and raised their four children. They were staunch supporters of the Menomonie Indians and Stout Blue Devils, and the rest is history.
First Congregational Church was their home church for decades of fellowship, friendship, worship and community building. Shirley was very active in countless capacities and was known for making people feel welcome. Like many women of her generation Shirley devoted her time and effort to raising her family and managing their home. After the children were older, she resumed her Nursing Career at Red Cedar Clinic in Menomonie. After retiring she continued nursing her loved ones and friends with her warm heart, keen mind, gentle touch and loving kindness.
It would be impossible to list all the groups, committees, and organizations to which Shirley gave her time and attention. Women's Fellowship, P.E.O., Faculty Wives, Red Cross, United Way, Meals-on-Wheels, Stepping Stones are just a few. In 2000 Shirley and Robert were recognized together by the Menomonie Chamber of Commerce as "Citizens of The Year".
Shirley and Bob were world travelers, touring Canada, Europe, Australia, the Caribbean and Central American. Through Stout, they visited the Soviet Union twice and the People's Republic of China. They also lived and worked for a semester with a group of University of Wisconsin students at the Dalkeith Castle in Scotland. They also enjoyed the company of many local friends as they went on many bus trips around the United States. They often said the best part of traveling was returning to their favorite place in the world-Menomonie. Since September of 2017 Shirley has resided at The Neighbors of Dunn County in Menomonie.
Shirley's family would like to express profound gratitude to the staff of The Neighbors of Dunn County for their compassionate care, the other residents of Even Tide Villa for their friendship and support, and to St. Croix Hospice for the wonderful palliative care which brought comfort to Shirley and helped ease her transition.
Shirley is survived by her children, Marc (Donna) of Minneapolis, MN; a daughter, Margaret Worzalla of Stevens Point; a daughter-in-law, Debra Melrose of Minneapolis; four grandchildren, John Melrose, David Melrose; Jami and Christy Worzalla; three great grandchildren, Evan and Sam Worzalla and Mabel Melrose; a sister, Carol (John) Toussaint of Madison; a brother, Tom (Pat) Towers of Bayside; several nieces, nephews, other relatives and friends.
She is preceded in death by her parents, a son John in 1978, husband Bob in 2007, a son Bruce in 2019, a son-in-law, Jeff Worzalla in 2013; one brother Roland Towers and a sister, Eloise Girard.
Memorial donations in Shirley's memory may be directed to the First Congregational Church or the donor's choice. Thank you.
Funeral services will be at 11:30 AM Wednesday December 11, 2019 at First Congregational United Church of Christ in Menomonie with Rev. Kathleen Remund officiating. Lunch will immediately follow the service. Burial will be in the Evergreen Cemetery at a later date.
Visitation will be held from 9:30 AM Wednesday until the time of the services at the church.