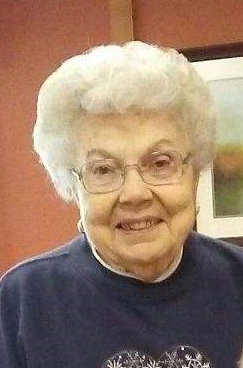 Darlene G. Wolf, age 90 of Eau Claire, formerly of Menomonie, passed to her eternal home on Wednesday December 25, 2019 at Milestone Assisted Living in Eau Claire, surrounded by her family.
Darlene was born April 12, 1929 in the Township of Weston. She was the daughter of Amandus and Elizabeth (Weber) Krueger. Darlene graduated from Elmwood High School, class of 1946. After high school she worked at Kraft State Bank in Menomonie. Darlene married Everett Wolf July 17, 1950 at St. Joseph Catholic Church in Menomonie. After marriage she worked diligently on the family farm, raising their six children. In 1979 they moved into Menomonie and sold their farm to two of their sons. Once they moved into Menomonie, Darlene worked briefly at Lammer's Foods, as a cashier. She also enjoyed her time helping with elections when they were held at the Menomonie Senior Center.
Darlene is survived by her husband, Everett; five children, John (Eileen) of Menomonie, Gordon (Julie) of Brooklyn Park, MN, Charlene (Kim) Lynum of Eau Claire, Roger (Deb) of Fulton, IL, Ron (Melissa) of Huntington Beach, CA, a daughter-in-law, Louise Wolf of South Yarmouth, MA; ten grandchildren, Ruth Ann (Randy) Rohlf, Jo Ann Wolf, Lesla Wolf, Carole (Alex) Mitev, Tim (Brielle) Wolf, Chris (Amanda) Wolf, Kara Lynum, Erin (Castro) Lynum, Carter (Hayley) Wolf, Grant Wolf, and nine great grandchildren; several nieces, nephews other relatives and friends.
She is preceded in death by her parents, her son Jerry; two sisters, Dorothy (Alfred) Oebser, Frances (Robert) Lester; a brother Arthur (Alberta) Krueger.
The family would like to thank Mayo Home Health & Hospice staff and Milestone Senior Living Staff for the exceptional care that was given to Darlene and her family.
Funeral services will be 11:00 AM Monday December 30, 2019 at St. Joseph Catholic Church in Menomonie with Rev. Derek Sakowski officiating. Burial will be in the church cemetery.
Visitation will be held from 4:00 to 7:00 PM Sunday at Rhiel Funeral Home in Menomonie and one hour prior to services at the church on Monday. A Rosary service will be recited at 9:45 AM on Monday at the church before the visitation.