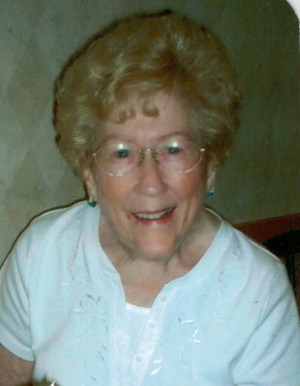 Mary Elizabeth "Bess" Yingst, age 103, of Durand passed away peacefully on Saturday, January 11, 2020 at Welcome Home Assisted Living in Elmwood, Wisconsin with her family by her side.
Bess was born on July 9, 1916 in Menomonie, Wisconsin to Charles and Alice (Hickey) Bauer. At the age of four her mother passed away and Bess and her siblings moved to Durand, Wisconsin and were raised by their grandmother Caroline Bauer. Grandma Bauer owned a hat shop in Durand where Bess loved to work and visit with the customers. She also loved to sell vegetables in her little wagon singing while selling her produce up and down the streets. Bess attended St. Mary's Catholic School in Durand through tenth grade and graduated from Durand High School in 1934. In her high school years she worked at her brother George's movie theater. After graduation she worked in Eau Claire, Wisconsin at Presto supporting the war effort.
Later Bess moved to Texas and worked at Harlingen Air Force Base. It was there that she met her future husband Major Harvey J. Yingst. They were married on May 9th, 1944 in Mission, Texas. They moved to Arkansaw, Wisconsin after WWII and she worked for many years as a clerk at the Arkansaw Post Office. Bess was a Cub Scout Den Mother for many years. She was a member of St. Joseph's Catholic Church and served as group leader in St. Ann's Altar Society. She also taught tap dancing and ballroom dancing for many years to young people in the Durand and Arkansaw area.
After retirement Bess and Harvey spent many years wintering in Florida, Texas and Arizona enjoying time spent with their "snow bird" friends.
Bess had a deep faith in God and a real zest for life. She was witty, fun, and was said to "always light up a room when she entered." She loved to spend time with her children, grand-children, relatives and friends.
Bess is survived by two sons, Bill (Marilyn) of Arkansaw, Wisconsin and Rick (Lynn) of San Bernadino, California. Grandsons, Bill Yingst Jr. (Sarah) Colfax, Wisconsin and Paul (Stephanie), US Army in Germany. Further survived by 5 great grandchildren; Allison, Hannah, McKenna, Wyatt and Dalton, 2 step-grandchildren, and half-sister, Joyce Muckenfuss of Schenectady, New York, many nieces, nephews, other relatives and friends.
She is preceded in death by her parents, husband Harvey, (in 2000), son Joe, sisters, Ruth Auth, Florence Gustafson, Evelyn Doyle; brothers George Bauer and Albert John Bauer, and half-sisters Carol Davis and Dorothy Bauer.
The family would like to extend their sincere "thank you" to Mel and staff at "Welcome Home Assisted Living", Elmwood, Wisconsin for the past two years making a comfortable and caring home for Mom. Also; our heartfelt gratitude to St. Croix HOSPICE for their compassion, comfort and love. It takes special people to make everyone feel like family.
Funeral Mass will be celebrated at St. Joseph's Catholic Church, Arkansaw, Wisconsin at 11:00 AM, Saturday, January 25, 2020. Father Joseph Okine-Quartey officiating. Visitation will be from 9:00AM until the time of services at the church on Saturday.
Rhiel Funeral Home & Cremation Services, Durand, is serving the family.