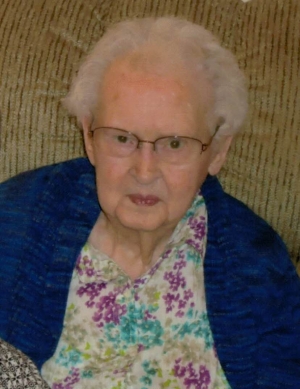 Dorothy E. Martin, age 106 of River Falls, formerly of Elmwood, died Thursday, January 23, 2020 at The Comforts of Home in River Falls.
Dorothy by was born on October 11, 1913 near Kalispell, MT. She was the daughter of Joseph and Mabel (Cowden) Sutherland. Dorothy grew up in Pepin and attended Pepin Schools. Dorothy married Charles "Charlie" Martin on July 5, 1933, together they farmed and raised their family outside of Elmwood. After the death of Charlie, Dorothy lived in the Village of Elmwood for five years. Dorothy moved with her family to various places before settling in River Falls, where she remained the rest of her life. For the last five years, Dorothy has been a resident of the Comforts of Home.
Dorothy enjoyed gardening, playing cards and dancing the Charleston. Most of all, Dorothy loved to spend time with family and friends.
Dorothy is survived by her son; Mike (Sandy) of Rochester, MN, 10 grandchildren, eight great grandchildren, five great great grandchildren, one son-in-law; Alva Leach of Hudson, nieces, nephews, other relatives and friends. She is preceded in death by her parents, husband; Charlie, four children; Kenneth, Beverly Leach, Charlene Martin and Brenda Martin, granddaughter-in-law; Irene Leach, great granddaughter; Eliza Maie Martin, daughter-in-law; Carol Martin, two sisters; Thelma Sutherland and Pearl Sutherland in infancy and nine brothers; Ken, Floyd, Fay, Bill, Charles, Harvey, Carl, Don and Albert Sutherland.
Funeral Services will be 11:00AM Tuesday, January 28, 2020 at the Elmwood United Methodist Church in Elmwood with Rev. Michael Weaver officiating. Burial will be in the Poplar Hill Cemetery in Rock Elm at a later date. Visitation will be from 10:00AM until the time of services at the church on Tuesday.
Rhiel Funeral Home & Cremation Services, Elmwood, is serving the family.