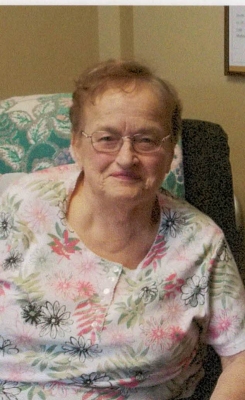 Doris I. Bauer age 79 of Durand, died Sunday, January 26, 2020 at the Hillview Senior Living in Mondovi with her family by her side.
Doris was born on January 11, 1941 in Durand. She was the daughter Rueben and Myrtle (Plumer) Shaw. Doris grew up in Arkansaw and graduated from Arkansaw High School. On October 5, 1968, Doris married Sylvan J. Bauer at Holy Rosary Catholic Church-Lima in Durand. After marriage, they farmed and raised their family on the Bauer family farm near Holy Rosary Catholic Church in Lima. Later in life, Doris worked at Club 10 and for Buffalo County as a home health aide. For the last two years, Doris has been a resident of the Hillview Senior Living in Mondovi.
Doris enjoyed flowers, baking, reading, her dog and going out to eat. She was an active member of Holy Rosary Catholic Church, helping with the Altar Society and fall festival. Most of all, Doris loved to spend time with her family and friends.
Doris is survived by her children; Sherrie (Mark) Dieter of Frisco, TX, Mike "Bearpaw" (Jody) Bauer and Rhonda Bauer of Durand, two grandchildren; Ryan (Krista) Dieter of Durand and Colin Dieter of Frisco, TX, one great granddaughter; Summer Dieter, one brother; Fred (Bonnie) Shaw of Pepin, three sisters; Ruth (Leroy) Kralewski of Arkansaw, Mary (Russel) Heath of Pepin and Dorothy Metcalf of Durand, sister-in-law; Marlene Shaw of Rochester, MN, nieces, nephews, other relatives and friends. She is preceded in death by her parents, husband; Sylvan, two brothers; Clarence (Delores) Shaw and Jim Shaw, two sisters; Alice (Arnie) Tiedke and Clara (Spike) Bauer and one brother-in-law; Herbert Metcalf.
Prayer Services will be 11:30AM Thursday, January 30, 2020 at Holy Rosary Catholic Church-Lima with Rev. Emmanuel Asamoah-Bekoe officiating. Burial will be in the church cemetery at a later date. Visitation will be from 10:30AM until the time of services at the church on Thursday.
Rhiel Funeral Home & Cremation Services, Durand, is serving the family.