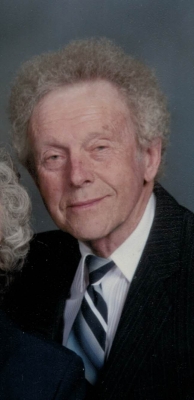 Norbert H. Weinzirl, age 95 of Eau Galle, died peacefully Monday, January 27, 2020 at the Assisted Living of Durand with his family by his side.
Norbert was born on January 9, 1925 on the home farm in Eau Galle to John C. and Vera (Sinz) Weinzirl. His mother died of birthing complications and he was raised by his grandmother, Clara (Loechler)Weinzirl until his father remarried Clara Bauer. Norbert grew up on the family farm working beside his parents, brother and sisters and graduated from Durand High School. He married Leona Bauer on September 2, 1952 at Holy Rosary Parish in Lima and after a short time, they moved to their own farm in rural Eau Galle. He and Leona worked and improved their farm while raising their growing family. After retirement in 1987 Norbert found more time for his favorite past time of bicycling and walking with his dogs, especially Abby. He was also an avid Packer fan, loved to dance, going to Countryfest and traveling as far away as China.
Norbert is survived by his wife of 67 years, Leona; his children Geralyn (Steve) O'Neill of Rosemount, MN; Roger (Kay) of Eau Galle; Lynette (Kim) Wagenbach of Durand; Randy (Sue) of Arkansaw; Danny of Bay City; and Barry of Eau Galle; his sister, Betty Ninefeldt of Mahtomedi, MN; his brother-in-law, Thomas (Dorothy) Bauer of 29 Palms, CA; grandchildren: Thekla (Grayson) Schenk; Trevor (Laura Gabatino) O'Neill; Justyna (Adam) Lloyd; Jenae (fiancé Logan Millard) O'Neill; Phillip (Jennifer) Wagenbach; Andrew (Coreen) Wagenbach; Sadie (Sterling) Sievwright; Sam (fiancé Amy Erickson) Sletten; and Warren Weinzirl. Great grandchildren: Adelai and Ellia Schenk, Hazel Lloyd, William, Benjamin and Maya Wagenbach; Pierre, Fulton, Augustine and Sebastian Wagenbach; soon to arrive Sawyer Sievwright in February. Many special nieces, nephews and cousins. Norbert was preceded in death by his parents, his sister Darlene Molla and brother John L. Weinzirl.
Memorial Mass will be 10:30AM Friday, January 31, 2020 at St. Henry Catholic Church in Eau Galle with Rev. Emmanuel Asamoah-Bekoe. A Rosary by the Knights of Columbus at 8:45AM. Visitation will be from 9:00AM until the time of services at the church on Friday. Burial will be in the church cemetery at a later date.
In lieu of flowers, the family requests memorials be made in Norbert's name to St. Henry Catholic Church in Eau Galle.
Rhiel Funeral Funeral Home and Cremation Services, Durand, is serving the family.