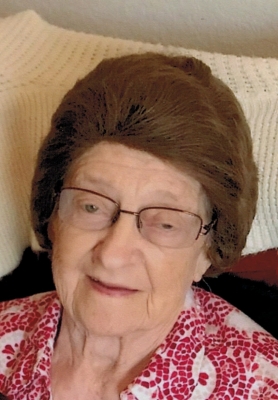 Marian K. Yauch age 88 of Menomonie, formerly of Elmwood, passed away on Thursday February 13, 2020 at the Heritage of Elmwood Nursing Home in Elmwood.
Marian was born December 25, 1931 in the Spring Lake Township of Pierce County. She was the daughter of Gordon and Vera (Hoyt) Gibson. Marian grew up in the Township of Rock Elm, rural Elmwood. She graduated from Elmwood High School in 1950. Marian married Edwin M. Mousel October 17, 1950 and they had three children. Ed died in 1956. Marian married Donald A. Yauch May 27, 1958 and together they had two children.
Marian lived most of her life in the Elmwood area. She worked at Rex's V Store in Spring Valley, Reinke Hardware in Elmwood and the Heritage of Elmwood Nursing Home. Marian worked for Pierce County Health Department as a Home Health Aide and retired in 1998. Marian was an EMT for the Elmwood Ambulance for approximately 30 years. She also served her community by serving on the Elmwood Village Board and Heritage of Elmwood Board.
Marian enjoyed working in the garden with her flowers. She enjoyed cooking and baking for her family. She loved playing cards and belonged to four card clubs over the years, going to the casino, attending her grandchildren's school and sporting activities, but mostly she enjoyed spending time with her family and friends.
Marian is survived by her husband of 61 years, Donald; her children, Deborah (Tom) Sinz of Gilbert, AZ, Ann Mousel of Villa Rica, GA, Tammy (Jerry) Wolf of Elmwood, Nadene Yauch of Menomonie; a daughter-in-law, Kathy Mousel of Menomonie; eight grandchildren, 12 great grandchildren; two brothers, Jerry Gibson of Waukon, IA, William (Jan) Gibson of Eau Claire, other relatives and friends.
She is preceded in death by her parents, her son Tom Mousel, and one brother Terry Gibson.
A Celebration of Life will be held from 4:00 to 7:00 PM Sunday at the Rhiel Funeral Home in Menomonie. Burial will be at a later date at Poplar Hill Cemetery-Rock Elm, rural Elmwood.