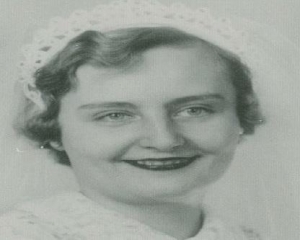 With profound sadness we announce the passing of Nancy Ann (Pedersen) Hei, widower, mother, sister, grandmother, and great-grandmother, to acute kidney injury and perforation to her duodenum further complicated by gall bladder disease on Friday February 28th. Nancy fought a longstanding good fight, through multiple medications and medical protocols in her fight with a very rare autoimmune disease diagnosed at Mayo Clinic some decades ago. Some of the side effects of treatment were just as brutal as the original illness. The loss of vision from those once beautiful blue eyes made her gradually disengage from a wonderful hand-eye coordination that had enabled her to have diverse talents such as playing piano, sewing very detailed projects such as Barbie doll clothing (sold locally), assembling electrical components that made their way to the space industry, and later working at the bakery at Rogers IGA. She inherited her mid-western can do spirit from her mother Florence (Mace) Pedersen and her father Arnold Pedersen. She had lost her husband Keith, a truck driver for many years in 2012. Her surviving relatives include a loving brother Paul Pedersen who was a psychologist in the Madison area and his wife Cheryl, a talented nurse, now living in North Carolina, their two daughters Janelle and Mara each with their own family, and her children Dennis Hei (an Engineer), his wife Virginia and stepdaughter Heather (living in New England), Jerome Hei (retired from Ford and living in Arizona) who in recent years lost his wife Sue, and Diane Helmueller who has three children Rebecca, Brad, and Lauren (and their families).
When Nancy Ann Pedersen married into the Keith Hei family, she greatly increased her number of relatives as Keith had seven brothers and one sister. The remaining sister-in-law's are Clarabelle Hei, Ann Hei, Juanita Hei, Shirley Hei, Darlene Hei, and Keith's sister Carol (Hei) Gritzmaker and her husband Ron. Her other remaining brother in laws is Vernon Hei now living in the twin cities.
Certain local individuals made coordinating strategic efforts to illicit the best outcome for mother's multi-factorial health issues possible. These wonderful people are Anna Mae Bauer, a dear friend, driver, and confidante who tirelessly showed up whenever she was needed, driving Nancy to Rochester for her urgent medical needs or to watch "The White Sidewalls Rock 'n Roll Review Group" at various venues around Durand. Nancy loved being serenaded by the leader. Patty Bauer, once head nurse at the Nursing Home in Durand, repeatedly aided Nancy in pinch hitting anything that would otherwise have fallen through the cracks in Nancy's healthcare…, even spear-heading her last move from one facility to the next, often taking her to Mass which Nancy so enjoyed. Arlene Arnold, another beloved friend and neighbor, always ready with her own brand of advice and humorous views. Mary Bauer, a loving and devoted caretaker painstakingly organized Nancy's possessions in her living quarters, more than once! Linda Mason, a dedicated caregiver who in the past gave very considerate care to Nancy when she was so frail. God's love has shown through every one of these lovely ladies.
Being legally blind detaches you from certain pleasures that most of us take for granted… making you feel lost and alone at times. …WAS LOST BUT NOW AM FOUND… God Bless You, Mother.
Funeral Services to be held at at a later date.
Rhiel Funeral Home & Cremation Services, Durand, is serving the family.