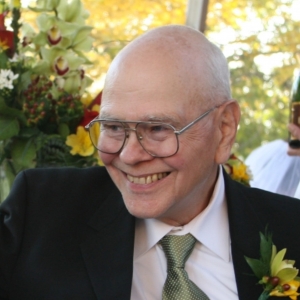 George Henry Sheppard, Jr., of Menomonie, WI, a devoted spouse and loving father, went home to Jesus on March 14, 2020 at the age of 84, surrounded by his faithful wife and children, after a lengthy, courageous battle with cancer at The Neighbors of Dunn County, in Menomonie.
George was born to parents George H. Sheppard, Sr. and Dorothy (Morris) Sheppard on November 7, 1935 in Chicago, IL. His childhood was spent enjoying the company of his family (Mom, Dad and Brother John) participating sporting events, hikes and scouting trips. George spent a majority of his childhood in Prospect Heights, IL, where his family moved when he was very young.
After earning his Bachelor of Science in Forestry at Michigan Technological University, George served in the United States Army as a 1st Lieutenant (Structural and Pipeline Engineer). Then, after several years in Professional Scouting with the Boy Scouts of America, George moved to Milwaukee, WI and met Mary Meyer at his new job in Office Management at the School of Education, UW - Milwaukee in June 1966. George & Mary soon formed a strong connection and married less than a year later on March 25, 1967 and went on to have four children, Steven, Andrew, James, and Nancy. Soon after marrying, they moved to Wautoma, WI where George worked as the Department of Natural Resources Fire Prevention Specialist for Central WI. Then, in 1971 George & Mary moved their family to Menomonie, Wisconsin, where George was hired to be the Dunn County Forester with the DNR. He served in that role or other consulting forester roles for over 54 years and was introduced to an incredible array of landowners, foresters, loggers, and environmentally-oriented organizations during this time, serving in leadership roles often. When George officially retired from his forestry career, the Wisconsin Department of Natural Resources awarded him the prestigious 2014 Friend of Forestry Award. The award in part stated, "Through the course of his career, George established a track record of impeccable ethics, paying proper attention to details, thoughtful forestry management, and cooperative spirit." As well, "The well-being of the resource and the people who are custodians of the resource, have always been at the forefront of George's mindset. By the way he has conducted himself and his business, George set an admirable example for the rest of his colleagues to follow."
As a part of his love for properly managing the life cycle of woodland areas and showing all people the beauty in God's creation, George and Mary purchased land in Central Wisconsin and owned a Christmas tree business for many years, while serving in his professional forestry role. Sheppard Trees planted, sheared, harvested and then sold thousands of Christmas trees each year, from their side lot at their home in North Menomonie where George & Mary raised their family for 30 years. It was an enterprise that the whole family participated in, with George & Mary leading the kids in duties and George managing a crew on the plantation on many weekends. During many of these same years, George's entrepreneurial spirit was on display throughout the community, when he also co-owned and was the General Manager of a number of rental houses in Menomonie.
George was devoted to his faith and was active in both churches he led his family to attend in Menomonie. In the 70's and 80's, George, Mary and their family enjoyed their fellowship at the Menomonie United Methodist Church, where they met many lifelong friends. For the past 25+ years, George and Mary have been attending and been very active in the ministry of the Immanuel Baptist Church of Menomonie, further deepening their faith and network of dear friends, with George serving as a Deacon and Elder for many of those years. George enjoyed being the hands and feet of Jesus witnessing in the community. In the past few years, he especially relished ministering to those in nursing facilities with his fellow church members, often playing his accordion as a part of services for those unable to travel. Throughout George's entire life, he held an unwavering faith in God, which he shared often and at length with those who surrounded him. All who had the joy of knowing George knew he lived out the following verses: Romans 12:1-2, presenting himself as a living sacrifice, not conformed to this world, and Philippians 2:3, doing nothing out of selfish ambition or vain conceit, but instead, in humility valuing others above himself. These and other truths were George's life's calling, lived out most poignantly in selflessly providing for Mary as her caregiver in her times of debilitation.
George joins his parents, Dorothy and George H. Sheppard Sr., in Heaven. He is survived by his faithful life partner, best friend and wife of nearly 53 years, Mary, his Brother John(wife Linda), of Beaufort, South Carolina, his children and their spouses, Steven Sheppard (wife Sharon) of Suffolk, VA, Andrew Sheppard (wife Tamania Faith) of Gilbert, AZ, James Sheppard (partner Summer) of Kansas City, MO, and Nancy (Sheppard) Lauer (husband Tim) of Baltimore, MD; as well as his Grandchildren and Great Grandchild, who affectionately called him "Grandpa Frog": Chelse (Sheppard) Woods (husband Levi) of Portsmouth, VA, Cierra and Seth Sheppard of Suffolk, VA, Eve and Gabriel Sheppard of Gilbert, AZ, Evan and Natalie Lauer of Baltimore, MD, and Great Granddaughter, Norah Brooke Woods of Portsmouth, VA.
The family wishes to extend their gratitude to The Neighbors of Dunn County and St. Croix Hospice for the compassionate care provided to George over the past three months.
A Celebration of Life will be held at Immanuel Baptist Church in Menomonie at a date to be determined.