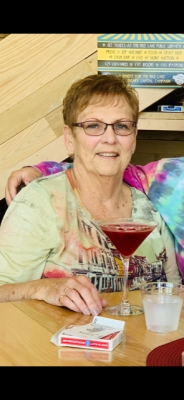 Nancy A Weber, 73 of Menomonie and Spooner WI peacefully passed away surrounded by loved ones on March 20, 2020. She joined the party of life on December 3, 1946 in Durand and was the only daughter of Anthony (Tony) and Edith Helmueller.
Born and raised 'Eau Galle' strong, Nancy spent countless hours in her parent's grocery store and being playfully tormented by her older brothers, Ed and Larry Helmueller. Nancy frequently recalled how her brothers didn't like the responsibilities of babysitting and would clip her to the clothesline so she would remain within reasonable distance while they went to play.
Nancy attended Durand High School and had her mind set on becoming a teacher. She attended Winona State University and started teaching in her beloved farming community of Arkansaw and later on in Durand. While Nancy was known as the 'typing teacher', she may be better known for the time she showed up to the Halloween party at her daughters' school dressed as Edward Scissorhands.
Nancy met and married the love of her life, Dan Weber of Menomonie on May 18, 1979. They were blessed with three wonderful and curly haired daughters, each one claiming to be their mother's favorite. They raised their '3 girls' that all start with a T, in Menomonie and at their lake home in Spooner.
Nancy enjoyed teaching, raising her family, making cookies, and watching her grandchildren thrive. She loved having a cocktail on the deck, pontoon rides, singing along to Mamma Mia, sharing memories with her lake friends and stomping her feet to cheer on the Badgers and Packers.
Nancy is survived by her husband Dan of 40 years, her three daughters, Tassie Blackstone (Emory), Tracie Schaefer (Kevin) and Tress Weber (Mike Prochnow), bonus son Paul Bloodhart (Stesha) and grandchildren Savannah, Summer and Dallas Schaefer and bonus grandchildren, Preston and Parker Bloodhart. She is also survived by her brother Larry Helmueller, her sisters-in-law Mary Helmueller, Vicki Price, Julie Harmon (Ed), Tricia Bauer (Putter) and brothers-in-law Dennis Weber (Diane Fox), Jay Weber, Dale Weber (Wendy Clausen) and nieces, nephews and friends.
Nancy is preceded in death by her parents, Tony and Edith Helmueller, infant niece Sharon Helmueller, brother-in-law Rodney Price, sister-in-law Cheryl Weber, nephew Nathan Bauer, sister-in-law Denise Helmueller, and brother, Ed Helmueller and in-laws, Eugene and Susie Weber.
Her tenacious and fighting spirit will be greatly missed by her family and friends. The family would like to thank the talented and compassionate Vascular Surgery team and Dr. Shuja at St. Mary's Hospital in Rochester, MN for the amazing care. During these unprecedented times in our nation, the family would ask that you take family pictures because we already wish we had taken more.
Memorials can be left to the Eau Galle Sportsmans' Club and the The Arc of Dunn County in lieu of flowers. Nancy's wish to have a wine and cheese party to celebrate her life, will be scheduled at a later date.