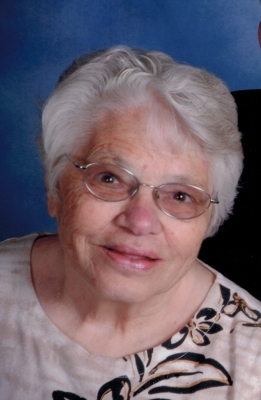 Marian Theresa (Lecheler) Bauer was born March 11, 1935 and unexpectedly called home to our Heavenly Father on March 27, 2020.
Marian grew up on a farm in Elmwood, WI and attended Farm Hill Grade School and Elmwood High School. On October 20, 1953 she married Arnold Bauer from Lima, WI. They lived on a farm in Lima for a short time before purchasing the Lecheler family farm in Elmwood. They raised their family and farmed until they retired. In 2014 they moved to an apartment in Elmwood and in 2019 moved to Welcome Home Assisted Living in Elmwood.
Marian was a member of Sacred Heart Catholic Church in Elmwood, the Altar & Rosery Society and their Quilting Group.
Making quilts, Easter Baskets and Christmas stockings for each grandchild and great grandchild gave her much enjoyment and wonderful keepsakes. Sewing, gardening flowers and vegetables, crocheting, needle point, reading, playing games were just some of her hobbies.
Marian is survived by her husband Arnold and children, Nona Buchholz of Eau Claire, Arnie Jr. (Chris) Bauer of Colfax, Judy (Jerry) Hartung of Arkansaw, Allen (Jodi) Bauer of Roberts, Karen (Chuck) Goettl of Chippewa Falls, Jean (Matt) Dilts of Menomonie, Paula Bauer of Eau Claire, Daughter-in-law, Brenda Bauer of Plum City; 16 Grandchildren and 17 Great Grandchildren.
She is preceded in death by her parents, Paul & Frances (Bates) Lecheler; her son Kenneth, son-in-law, Dale Buchholz; brothers, Arthur, Romanes, Peter, Raymond and Alvin Lecheler and sisters, Margaret Harmon and Agnes Lauer.
The family is planning a private ceremony due to the current COVID-19 situation and for the safety of the immediate family members. A funeral service and Celebration of her Life will be scheduled for a later date.