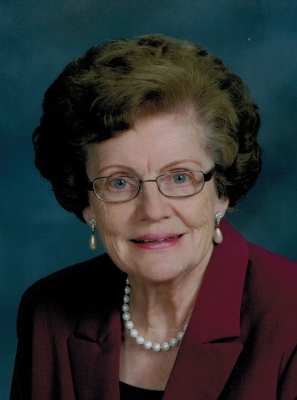 Genevieve M. Huftel, age 87, of Menomonie passed away on Saturday, April 25th at The Neighbors of Dunn County in Menomonie. She was born October 10, 1932 in the Town of Menomonie to Daniel and Mayme (Brehm) Knopps. She graduated from Menomonie High School in 1951. Following graduation, she worked at the University of Wisconsin-Stout in the Registrar and Placement Office for four and a half years, and later took courses at Stout. Gen married Stanley J. Huftel on August 30, 1955 at St. Joseph Catholic Church officiated by Father Alvin Daul.
Gen was an active member of St. Joseph Catholic Church and the Parish Council of Catholic Women for which she served as secretary, vice president-elect and president of that organization. She also served as a group chairperson for several years and as a Eucharistic minister. Gen chaired several parish events and was honored as Mother of the Year in 1972 at St. Joseph School. In April of 2010, she was presented with the parish Woman of Light award for her service to the PCCW and for serving as the parish funeral luncheon chairperson for St. Joseph Church for over 25 years. Gen also cared for altar flowers for several years and enjoyed planting and caring for flowers around the church area.
She was a member of Myrtle Werth Medical Center Auxiliary where she chaired Florence Nightingale Luncheons and served as kitchen chairperson of the Harvest Festival for 15 years. Gen was also member of the Red Cross for 25 years. She enjoyed refinishing furniture and was a part-time food demonstrator for over 18 years.
Her precious family was the love of her life. She had a caring and loving heart.
Gen is survived by her husband Stanley, five children, Michael of Minneapolis, Dr. Mark (Amy) of Wausau, Joseph of Rice Lake, Thomas (Audrey) of Merrill and Monica (Timothy) Huebner of Hortonville; four grandchildren, Isaac and Grace Huftel, and Sarah and Jack Huebner; two sisters, Mary Strehlau and Luella (Eugene) Krumrie; a brother, Ronald (Leone) Knopps.
She is preceded in death by her parents; one brother, Jerome Knopps; three brothers-in-law, Arnold Strehlau, Harland Huftel, and Virgil Huftel; one nephew, Jeffrey Knopps, and one niece, Nancy Putnam.
The family would like to sincerely express their thanks and gratitude to the entire staff of The Neighbors of Dunn County and the St. Croix Hospice for the great care they gave Genny.
A private burial will be held at St. Joseph Cemetery in Menomonie. A funeral mass will be held at St. Joseph Catholic Church in Menomonie at a later date.
Memorials in Gen's name may be given to St. Joseph Catholic Church or the Shirley Doane Senior Center in Menomonie.
Rhiel Funeral Home & Cremation Services of Menomonie is serving the family.