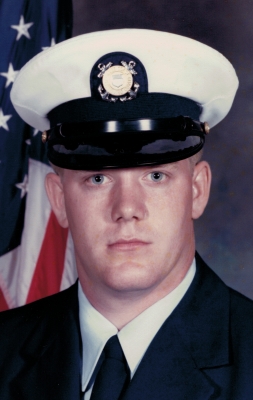 Ronald W. Scott age 49 of Rothschild, formerly of the Menomonie area, died Saturday, July 4, 2020 at his home in Rothschild.
Ron was born November 6, 1970 in Menomonie. He was the son of Robert and Ruth Ann (Plutshack) Scott. Ron grew up in the Otter Creek area of Dunn County. He graduated from Colfax High School in 1989. Ron enlisted in the U.S Coast Guard and served for four and half years. Ron returned to the Menomonie area after his service in Coast Guard.
Ron was a kind-hearted soul and was loved by all that he met. He was a genuine, down to Earth man. Ron loved his family more than life. Hunting and fishing were his favorite hobbies. He loved the Packers and Badgers. Ron was an intelligent man, always eager to learn more about history, his favorite subject. His sense of humor was one of a kind and could always make everyone in the room laugh. He would often joke about looking for Bigfoot.
Ron is survived by his daughter Caitlin (John) Scott of Independence, granddaughters, Gabrielle and Aubree; his mother, Ruth Ann Scott of Menomonie; an aunt, Debra Swanson, cousins, other relatives and friends.
He is preceded in death by his father, Robert and a brother, Robert Jr.
Memorial visitation will be held from 2:00 to 3:30 PM Friday July 17, 2020 at Rhiel Funeral Home in Menomonie using social distance requirements.
Graveside services will be held 4:00 PM Friday July 17, 2020 at Christ Luther Church-Halvorson Cemetery using social distancing, with Military Honors provided by the Menomonie Veterans Honor Guard.