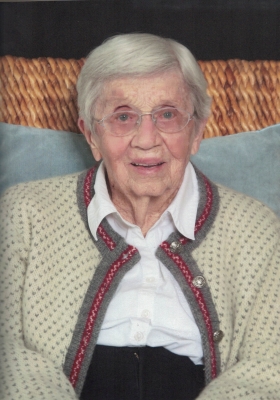 Dorothy Elaine (Batho) Clare passed away peacefully at the age of 96 on Friday, September 4, 2020. She was a residentof the Plum City Care Center, Plum City, Wi.
Dorothy was born February 11, 1924 in Union Township, Pierce County, WI. Dorothy was the Daughter of Lester and Leola "Lola" (Betterley) Batho. She was the youngest of 5 children. Dorothy was baptized at the Methodist Episcopal Church at Ono, WI. She was a lifelong member of the Ono Methodist Church. Dorothy attended school at the Poplar Grove School. (as we were told, had to walk uphill both ways to school and home.) She later attended Ellsworth school district graduating in 1942. Dorothy married Vernon Clare on September 12, 1945. They farmed in Union Township until 1973. As Dorothy put it: "We had to quit farming because the kids grew up and didn't want to milk cows! No more good help." In 1973 they sold the farm and moved to Plum City. Vernon and Dorothy then purchased the Plum City Lumber Yard. Dorothy helped Vernon in the Lumber yard until they retired in 1991. During this time, she also drove the little yellow school bus and made a bus trip to Durand each day. After they retired, they enjoyed travelling in their motor home seeing family, National Parks, and spending winters in Le Feria, TX.
Dorothy was preceded in death by her husband, Vernon Clare and a son, Lester Clare, her parents. Lester and Leola Batho, Her sisters and their husbands, Eleanor and Fred Haverlandt and Marjorie and Gerald Greer, Her Brothers, George (Harold) and sister-in-law Rachel Batho, and Howard. She is survived by Alan and Debbie Clare of Maiden Rock, Wi, Brenda and Ron Bengtson of Medford, WI, Gayanne (Maggie) Clare of Dighton, MA, and Becky and Rick Dowd of Marshfield, MA. Dorothy is also survived by 9 Grandchildren, Chad and Molly Clare of Bloomington, Mn, Brandon and Erin Clare of Maiden Rock, WI, Brett Bengtson (special Friend Carrie Szymanski) of Chippewa Falls, WI, Carrie and Nick Ziembo of Medford, WI, Brock Clare of Elmwood, WI, Tyler Clare of St Paul, MN, Jenn and Mike Albanese, Emma Dowd, and Colin Dowd, of Boston, MA area. Dorothy also has 12 Great Grandchildren, Ethan and Allison Clare of Bloomington, MN, Jordan and Mason Clare of Maiden Rock, WI, Logan Bengtson of Eau Claire, WI, Everett, Grace and Ava Ziembo of Medford, WI, Autumn, Savannah, and Ivan Clare of Elmwood, WI, A Sister-in-Law, Arvilla Clare, and many nieces and nephews.
Graveside Services 10:30AM Saturday October 24, 2020 at the Ono United Methodist Cemetery, rural Plum City. A Celebration of Life will follow at Molly's on Main from 11:00AM - 1:00PM.
Rhiel Funeral Home & Cremation Services, Durand, is serving the family.