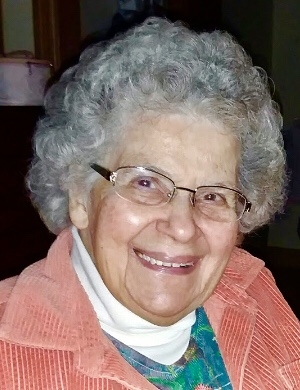 Delores M. Fedie age 89 of Menomonie, passed away on Sunday September 13, 2020 at The Neighbors of Dunn County in Menomonie.
Delores was born at home in the big Arkansaw Valley, April 12, 1931, rural Arkansas, WI. She was the daughter of Paul and Hazel (Martin) Caturia and grew up on the family farm. Delores graduated from Arkansaw High School. She met her husband Gerald " Jerry" at a dance at Lima and they married May 6, 1952 at St. Joseph Catholic Church in Arkansaw where she had also been baptized and confirmed. After marriage they lived a short time in Arkansaw before moving to rural Durand where they made a home and raised their family of nine children. In later years, they made their home in the Wheeler area and in 2008 they moved to Menomonie where she has remained the rest of her life.
Delores' love of family and strong faith were modeled through her daily activities. She taught religious education, assisted leaders with 4H activities, was a church volunteer, member of the prayer chain and distributed communion to the homebound. Spending time with family was a highlight of her life. She found great fulfillment when her children would come home and she enjoyed the shenanigans of family fun. Her grandchildren were a special treasure to her and she enjoyed finding ways to make them feel special. She took interest in learning about what her family was doing, providing guidance and laughter along the way. Family was the love of her life.
Delores is survived by nine children: Steve (Bonnie)- Trevor; of Holmen; Greg of Durand; Marge (Tim) Shoger-Paul and Christian, of Buffalo, MN; Dan (Bill Fowler) of Louisville, KY; Diane (Andrea Hrusovsky) of Leadville, CO; Gene (Donna)-Chris & Andrew, of Oshkosh; Jerry Jr. (Denise)-Ashley & Nicole, of Chanhassen, MN; Susan (Terry) Pronschinske-Kiley, Kory(son Charlie), Kayla, & Kody, of Fountain City; Carol (Dave) O'Mara- Bailey & Hannah, of Onalaska; a brother Bernard "Bud" Caturia of North Tonawanda, NY; a sister Darlene (Arnie) Bauer of Durand, many nieces, nephews other relatives and friends.
She is preceded in death by her husband Jerry in 2011, her parents, a brother, Bill Caturia, a sister, Peggy Seipel, a sister-in-law Charlotte Caturia, a niece, Linda Seipel, and a nephew, Paul Caturia.
In lieu of flowers, memorials in her honor may be made for breast cancer research to Gundersen Steppin Out in Pink, La Crosse, WI www.steppinoutinpink.org ; St Joseph Catholic, Menomonie, WI Churchhttps://www.menomoniecatholic.org/.
Private family services will be held at St. Joseph Catholic Church in Menomonie. Burial will be at a later date in the church cemetery.
Visitation will be held from 11:00 AM until 1:30 PM Friday September 18, 2020 at St. Joseph Catholic Church in Menomonie.