Frederick "Fred" G. Robert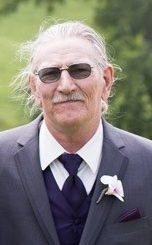 Frederick "Fred" G. Robert, age 67 of Menomonie, formerly of Hayward, passed away on Sunday October 4, 2020 at Mayo Health System- Red Cedar in Menomonie.
Fred was born December 7, 1952 in the Chicago area. He was the son of Lester and Margaret (Jones) Robert. Fred graduated from William Fremd High School in Palatine, IL. He attended Lincoln Tech in Illinois. Fred married Joy (Richards) Messer December 10, 1978. After marriage they later moved to Hayward where they raised their family. After the death of his wife in 2017 he moved to Menomonie to be closer to his family where he remained the rest of his life.
Fred enjoyed watching birds and other animals, especially horses. He was also a collector of many things-coins, pipes, movies, books, collectible souvenirs. He loved his downtime, watching movies and tv shows. "Trekkie for life".
Fred is survived by his children, Erica (Scott) Judge, Danielle (Mike) Acuna, Sarah (Joshua) Bartz, Tiffany Robert, Ryan (Jenna) Robert, Rachael (Chad) Stuart, Michael (Tania) Robert; grandchildren, Padraig, Aislinn, Alexus, Alana, "MJ", Alyssa, Caleb, Isaiah, Austin, Trinity, Patience, Trevor, Greta, Emmett, Elijah, Maverick, Daisy, and soon to be baby Robert due in December; two brothers, Les and Phil.
He is preceded in death by his parents, his wife Joy.
Per Fred's wishes, no formal services are being planned. An intimate gathering will be held at a later date.
"Beam me up, Scotty"
In lieu of flowers, memorials in Fred's memory may be made to the Children's Diabetes Foundation.