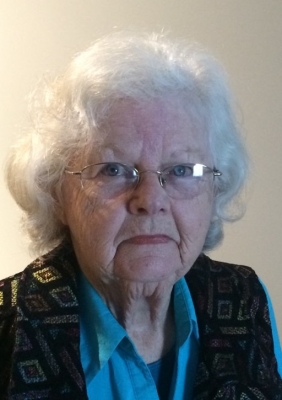 Mary A. Zimmer age 88 of Baldwin, formerly of Spring Valley, passed away Monday, October 5, 2020 at Birch Haven Assisted Living in Baldwin.
Mary was born as the Great Depression was near its end, on August 23, 1932 in Mora, MN. She was the daughter of Oris and Anamae (Jones) Hollibush. Mary later moved with her family to Evansville, WI where she was raised, survived two kinds of measles, and cared for her younger sisters while World War II came and passed. Mary met her future husband, Ronald, in the Evansville area. Mary once again moved, this time to Spring Valley, WI where she finished her senior year of high school, supporting herself as a nanny to a local family. Following graduation, she married Ronald Zimmer, June 6, 1951, in Spring Valley. After marriage, the couple farmed and rejoiced in rearing their family. Mary and Ron later owned and operated Central Lanes Bowling Alley in Spring Valley for many years. Mary also worked for Mark Anderson in Spring Valley until she retired.
Loving, caring, mother Mary was an avid quilter and passionate for her family, determined to raise them right: to church every Sunday and to catechism on Wednesday night. Mary considered herself blessed with a multitude and their subsequent generations. She blanketed many lives with colorful, handmade quilts, utilizing her Depression-era resilience and independence to create a warm and friendly home in all circumstances, whether as a farm wife, as a co-proprietor with her husband, or as an employee.
Mary embraced opportunities to travel. She flew to Europe, touring Italy and France. She spanned the United States, from Maryland to Oregon, from Kentucky to California, and onward west to Hawaii to visit family on special occasions. Whether for the kids' high school sports or family fishing, whether square dancing or ballet, from art gallery field trips or natural history museums, to children's recitals or off-Broadway performances, Mary was there, willing to absorb all the beauty surrounding her. In good humor, with a wide, twinkling smile and child-like, wonder-filled blue eyes, her secret to a long life was "keep it clean."
Mary is survived by her children, David, Paul, Dean (Sandra), Ellen, John (Lauren), Barry (Deb), Roger (Diane), Tony (Kim), Nancy (William), Rhonda (Bruce), numerous grandchildren and great grandchildren; two sisters, Helen Aldrich, Patricia Schneider; several nieces, nephews; other relatives and friends.
She is preceded in death by her parents, husband Ronald, a daughter Jean Vance, a grandson, Stephen Zimmer; two brothers, Andy and Marvin Hollibush.
Visitation will be held from 11:30 AM to 12:30 PM on Saturday, October 10, 2020 at St. Joseph Catholic Church in Menomonie.
Private family services will be held at 1:00 PM Saturday at St. Joseph Catholic Church in Menomonie with Rev. John Mano officiating. Burial will be in the church cemetery.
Mary and her family extend their gratitude to Spring Valley and its surrounding area for providing lifelong neighbors and patronage. As one ever-selfless and open-hearted to another, to enrich the community which enveloped her family for 60 years and to endow the next generation's children, memorials in Mary's name may be given to the Spring Valley Scholarship Fund, Attention: Sandy Langer Wood, District Accountant, PO Box 249, Spring Valley, WI 54767.