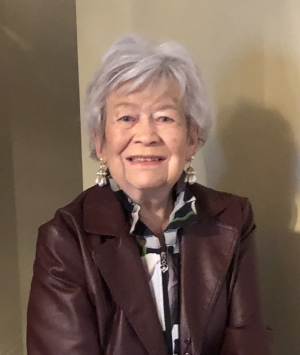 Lois J. Geiger, age 91 of Durand, died Thursday, October 29, 2020 at the Home Place Assisted Living of Durand.
Lois was born on March 11, 1929 in Racine, WI to William Leo Pirk and Margaret Catherine Hochgurtel. The family moved to Beaver Dam, WI when Lois was 8 years old and she graduated from Beaver Dam High School in 1946. Lois attended the Milwaukee Business Institute after high school. Following her degree, in 1948, Lois and 2 of her friends learned to ski and took off for Denver to find jobs so they could ski on the weekends! The following year Lois returned to Beaver Dam, reconnecting with her longtime boyfriend William Henry Morgan. They were soon engaged and married on June 3, 1950 after which they moved to Milwaukee where they raised 3 children, Bill, Greg and Paula.
Lois taught organ lessons out of the home while raising her family. Music was a very important part of her life! After her husband Bill passed away in 1970 Lois began working for Hal Leonard Publishing Co. as a proofreader of sheet music.
In 1974, Lois met a fellow churchgoer, Mark Geiger, a single man raising 3 young boys, Chris, Scott and Tim. They were married on August 19, 1975 and continued to reside in Milwaukee raising Lois' daughter Paula and Mark's 3 sons. Lois' 2 sons were grown and out of the home. In 1977, the family moved to Sussex, WI for 11 years and later moved and built a home in Richfield, WI where they resided for 26 years before making their current residence in Durand, WI. In 2018 Lois moved to assisted living at The Homeplace, right across the street from their home!
Lois loved playing her organ, playing and competing at Bridge, painting and spending time with her family and friends.
Lois is survived by her husband Mark, children Bill (Charlene) Morgan, Shawnee, OK; Greg (Wendy) Morgan, Germantown; Paula (Bob) Komro, Durand; Chris Geiger, Carrolton, GA; Scott (Jen) Geiger, Prescott; Tim (Sue) Geiger, Whitehall, grandchildren: Erica Morgan, Paul Morgan, Candice (Tommy) Frederick, Matt (friend Katie Holden) Komro, Zach (Gina) Komro, Lindsay (Matt) Harmon, Cole (Megan) Geiger, Jack Geiger, Madelyn Geiger, Halle Geiger, great grandchildren: Payton, Catie, Brooke, Jake, Elias, Amelia, Morgan
Lois was preceded in death by her parents, her first husband William Morgan, brother William Pirk, sister Marjorie Victor.
Due to Covid-19, a private visitation with family will be held on Wednesday, November 4 at Rhiel Funeral Home in Durand. A Celebration of Life and burial will be held at a later date.
Rhiel Funeral Home & Cremation Services, Durand, is serving the family.