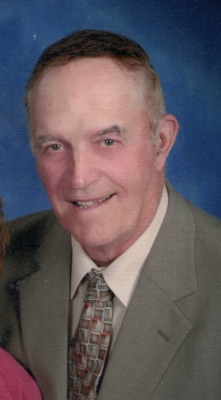 Thomas A. Drier, age 83 of Arkansaw, died unexpectedly Monday, November 9, 2020 at Advent Health Hospital in Durand.
Tom was born on August 17, 1937 at home in Cameron. He was the son of Arthur C. and Dorothy (Hartung) Drier. Tom grew up in the Arkansaw area and graduated from Arkansaw High School in 1955. After high school, Tom began farming in the Little Arkansaw Valley and was so proud of his farm. Tom married Lillian B. Bauer on August 21, 1956 at Holy Rosary Catholic Church in Lima. They continued farming in Arkansaw, where they raised their family. Tom was a well-respected, humble, selfless, man of conviction and faith. He had a zest for life and was a devoted husband and father.
Tom enjoyed square dancing with Lillian, fishing, hunting, trapping and playing cards. He collected coins, arrowheads and antiques; Tom was immensely proud of his collections. Tom also loved polka dancing and taught his daughters how to polka in the barn! Tom always had candy bars in the fridge for his grandchildren and to them he was known as "Grandpa Chocolate".
Tom is survived by his wife of 64 years; Lillian, children; Susan (Darren) Kerr of Coral Springs, FL, Sandra Drier of Arkansaw, Sharon Drier of Menomonie, John Drier (Special Friend Deb Sie) of Plum City, James Drier of Menomonie and Joseph (Jan) Drier of Arkansaw, 18 grandchildren; Brandon, Shelby, Sydney, Jena (Bryce), Jenae (Travis), Jeffrey, Brian, Kirsten (Greg), Jessica (Josh), Travis (Katie), Emily, Allison, Jared, Wesley (Fiancé Madi), Matthew, Derek, Trevor and Nicole (Fiancé Grant), five great grandchildren; Elliana, Easton, Aycen, Elise and Lauren, three brothers; Jerry (Kathie) of Arkansaw, David (Brenda) of Arkansaw and Daniel (Julia) of Holland, MI, one sister Marjorie Holt of Alamo, TX, his beloved cat; Daisey, nieces, nephews, other relatives and friends. He is preceded in death by his parents and nephew, Michael Drier.
Private family services will be held on Thursday, November 19th at St Joseph's Catholic Church in Arkansaw. A Celebration of Life will be held at a later date.
Rhiel Funeral Home & Cremation Services, Durand, is serving the family.