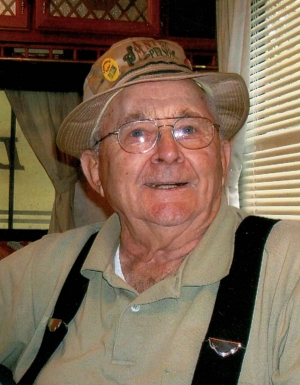 Carl W. Robelia, age 97 of Durand, died Wednesday, December 9, 2020 at Mayo Clinic Health Systems-Eau Claire.
Carl was born on April 20, 1923 at home in Eau Galle. He was the son of Joseph W. and Mayme (Kitchner) Robelia. Carl grew up in Eau Galle on the family farm and attended the Weber Country School. After school, Carl helped his father on the home farm for several years until becoming a hired hand at several farms in the area. Carl married Helen Berger on April 23, 1946 at Holy Rosary Catholic Church-Lima in rural Durand. After marriage, they rented farms in Exile and Bear Creek before buying their own farm in 1962 in the Town of Canton, rural Buffalo County. Carl farmed until he had to retire to take care of his wife Helen.
Carl enjoyed fishing, hunting, camping, and playing cards. Carl and Helen enjoyed traveling and went all over the country, Canada and Europe.
Carl is survived his children; Karleen Notham of Eau Claire, Charles (Karen) of Menomonie, Dory (Jan) Fedie of Rice Lake, John (Carol Sue) of Durand, Mike (Julie) of Durand, 14 grandchildren, 25 great grandchildren, two great great grandchildren, one brother; Joe (Ruth) Robelia of St. Paul, MN, nieces, nephews, other relatives and friends. He is preceded in death by his parents, wife; Helen, two brothers; Lyle and Lloyd and one sister; Margaret Risler.
Private family services will be held. A Celebration of Life will be held at a later date.
Rhiel Funeral Home & Cremation Services, Durand, is serving the family.