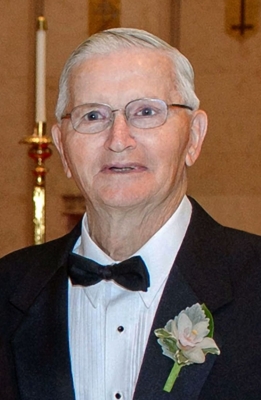 Bernard A. (Bun) Brenner
Bun died peacefully at HSHS Sacred Heart Hospital on Tuesday Dec. 23, 2020, after suffering a stroke.
Bun was born Feb. 15, 1931 in the farmhouse where he then lived and raised his family, until 1993 when he moved into the retirement house he had built next door for his parents, Adeline (Spindler) and Andrew Brenner. Bun married Lorraine Holmstadt May 13, 1952 at St. Mary's Catholic Church in Durand. After marriage they made their home on the farm just outside of Durand. He always joked that "I never got very far in this world," since he was born and lived in a small square of this earth.
Bun could repair anything and was a creative inventor. He was proud to have two inventions published in Successful Farming. He loved anything with motors – rigging up a motorized bicycle to ride to school, riding a Cushman scooter alongside his friends, driving his beloved Motoguzzi motorcycle with Lorraine on her own Honda cycle.
While busy with morning and night cow milking, Bun was always up for fun with his family – boating and water skiing on Lake Eau Galle or the Mississippi; skiing at White Mountain, Afton Alps, or Deepwood; spending a day at the Minnesota State Fair; and in his 70s, he still enjoyed riding the rollercoasters at Valley Fair with his grandkids. An excellent card player, he was always up for pfeiffer or euchre with family and friends. The laughter and fun at their card club parties was legendary.
Bun was a Fourth Degree Knight with St. Mary's Knights of Columbus, tenor with St. Mary's choir, active in the National Farmers Organization, on the board of directors for the Durand Co-op, active supporters of the Durand Courthouse Museum, and with Lorraine, proud to be grand marshals of the 2014 Durand Funfest parade. Along with Lorraine, Bun actively supported the Cystic Fibrosis Foundation in honor of their children, Michael, Barb and Nancy.
Bun is survived by his wife of 68 years, Lorraine (Holmstadt); son Gary (Marie Hillig); daughters Ruth (David Hunt) and Faye (Dan Owen); daughter-in-law Nancy Lynn (Klein); son-in-law John Tremble (Holly); son-in-law Todd Armstrong (Mary Jo Bowe); and eight grandchildren and 14 great grandchildren. He was preceded in death by his parents; infant son, Michael; daughters Barbara (Tremble) and Nancy Marie; son Bill; an infant grandson, Austin Hunt. Bun also was preceded in death by three sisters, Charlotte (Gilman Moody and Ed Tibbetts), Loretta (James Brantner) and Blanche (Lyle Sinz).
Memorials are preferred to the Cystic Fibrosis Foundation.
See more details for arrangements through https://www.rhielfuneralhome.com/obituaries.
Due to Covid 19, Memorial Mass will be held at a later date at St. Mary's Catholic Church in Durand; in the meantime, burial take place in the church cemetery.