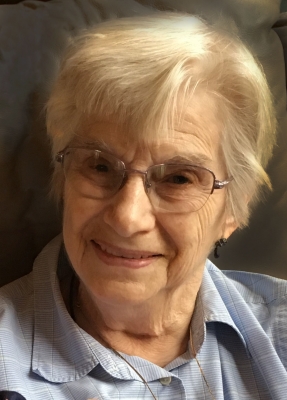 June Rose Fritz, age 92, of Elmwood, passed away gently on Wednesday December 23, 2020 at Welcome Home Assisted Living in the loving support of her family.
She was born on June 16, 1928, in Gilman Township, near Elmwood, WI, to Hans and Thora (Formoe) Moen. On Oct. 25, 1946, she married Dennis Leo Fritz. They resided in Elmwood their entire lives.
June loved her children, grandchildren and great-grandchildren, gifting them with handmade "stuffies" (stuffed animals), especially bunnies with long, floppy ears. She was an accomplished seamstress, creating beautiful wedding gowns and bridesmaid dresses for family weddings, sewing and smocking dresses for granddaughters, and making beautiful quilts, the more complicated the pattern, the better. She enjoyed crafts and making seasonal decorations.
The coffee pot was always on at the Fritz house and June was sure to have a cake baked for her family and any visitors who dropped by. At Welcome Home, she was an avid Bingo, Jeopardy and Scrabble player.
She worked at Duffy's Dry Cleaners in Spring Valley, in the Elmwood School kitchen for many years, and at Heritage of Elmwood as activities coordinator and kitchen staff.
She was preceded in death by her husband, Dennis; son, Bruce; daughter, Bonnie Hanvelt; by her parents, and by her siblings; Herbert Moen, Cyrus Moen, Evelyn Nelson, Arlene Geraets, Phyllis Lechler, Mary Ellen Busse, and Loren and Yvonne, who died in infancy.
June is survived by three children: Diane (Stephen) Pittman of Spring Valley, Dennis Duane (Susan) of River Falls, and Donald (Kathleen) of Elmwood; and her son-in-law, Gary Hanvelt of River Falls.
She was proud of her nine grandchildren: Brian (Lorena) Pittman of Oak Creek; Matt (Cheryl) Pittman of Round Lake, IL; Jenny Fritz of Pepin; Amy Fritz of Columbus, MO; Eric (Samantha) Fritz of Eden Prairie, MN; Kristine (Joe) Sharon of River Falls; Katie (David) Fritz of Silver Bay, MN; Jake (Kaitlyn) Fritz of Bloomington, MN; and Kailey (Scott) Schlageter of Phoenix, AZ. She treasured her nine great-grandchildren: Isabella Pittman of Oak Creek; Abigail, Margaret and Paul Fritz of Eden Prairie, MN; Ryan, Kane and River Sharon of River Falls; Julian Fritz of Bloomington, MN; and Ada Fritz of Silver Bay, MN.
Due to COVID-19 precautions, the family will have a memorial service later in 2021. If you wish to give a memorial in June's honor, the family asks them to be directed to Welcome Home Assisted Living in Elmwood or the Elmwood United Methodist Church.