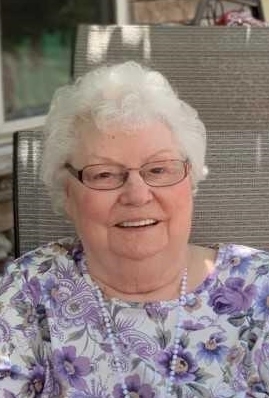 Shirley Mae LaBrec, age 84 passed away peacefully Sunday, December 27, 2020 at the Heritage Court Memory Care Unit in Eau Claire, with family by her side.
Shirley was born in Germantown Township, Washington County, WI on May 4, 1936 to Joseph and Olga (Janke) Krajewski. After her parents death at a young age she was raised in the Lima Township and Arkansaw areas by foster parents, Jim and Mary Ann Pattison and Ralph and Isabel Schlosser. She attended and graduated from Holy Rosary Catholic School.
On August 11, 1954 she married Ronald Karshbaum at Holy Rosary Catholic Church-Lima, Durand. They farmed and raised eight children in the Arkansaw area. They later divorced and she married James LaBrec, Sr. on January 15, 2000 at St. Joseph Catholic Church in Arkansaw.
During her life Shirley earned her degree as a Dietician and worked for the Plum City Care Center in Plum City for over twenty years. Mom had many talents and hobbies, she had a sewing machine that was never idle, canning shelves never empty, she loved to bake and cook for anyone who needed nourishment. She also loved to square dance and helped her church with socials, fall festivals, and card parties. After retirement Mom and Jim enjoyed going camping and fishing. Their freezer was always full of fish to share with families.
Above all she was a devoted wife, mother, grandmother and great grandmother. She made her grandchildren and great grandchildren feel special with the handmade gifts that she made for them.
Shirley is survived by her husband, Jim; her eight children, Roxanne (Rod) Bauer, Janet (Dan) Weiss, David (Connie) Karshbaum, Karen (Ron Berger) Meyer, Sharon Cox, Lori Claro, Robert (Albert) Karshbaum, Amy Karshbaum; 18 grandchildren, 32 great grandchildren; sisters-in-law and brothers-in-law; Carol Danzinger, Janice Middle and Judy Karshbaum, Dick (Donna) Karshbaum, John Karshbaum; man nieces, nephews, other relatives and dear friends. She is further survived by Jim's children, grandchildren and great grandchildren who were very important to Mom also.
She is preceded in death by her parents and all of her siblings, Florence, Gertrude, Leonard, Andrew, James, Alfred, Art and Donald, also her special first cousins, Beverly and Pauline.
Shirley's family would like to thank the staff at Heritage Court Memory Care Unit for the three years of loving care of our mother. We would also like to thank the Inclusa care team for the many years of help caring for mom, and also thank the St. Croix Hospice team for helping care for mom at the end.
Due to Covid 19, a private family Memorial Service will be held at 11:00 AM Friday January 8, 2021 at St. Joseph Catholic Church in Arkansaw with Very Rev. Joseph Okine-Quartrey officiating. The Memorial Service will be Livestreamed on the Rhiel Funeral Home Facebook Page. Graveside services will be held in the spring in the church cemetery.