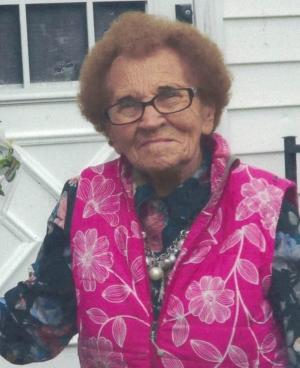 Irene H. Brantner, age 99 of Nelson, died Monday, January 4, 2021 at The Homeplace in Mondovi with her family by her side.
Irene was born on September 2, 1921 on the home farm in the Town of Maxville, rural Buffalo County. She was the daughter of Phillip and Edith (Pichler) Weisenbeck. Irene grew up on the farm, attended Burnside Country School, Nelson High School and graduated from Durand High School in 1940. Irene married Julius Brantner on December 30, 1941 at St. Mary Catholic Church in Durand. After marriage, they rented a farm in the Fox Valley just outside of Durand. In 1955 they bought a farm outside of Urne where they farmed and raised their family. Irene also worked several jobs including Huntsinger's Farm and the Mondovi canning factory, both in Mondovi.
Irene enjoyed gardening fruits, vegetables and nuts. She was known for her raspberries and black walnuts at area farmer's markets. She also liked playing euchre at The Whitetail in Urne with her card group and listening to old time music. Most of all, Irene loved to spend time with family and friends.
Irene is survived by her children; Cedric (Gloria) of Durand, Kim (Linda) of Nelson and Julie (Greg) Brantner of Durand, seven grandchildren; Denise (Ryan), Deanna (Mark), Stephanie, Kyle (Bridgette), Adam, Chelsea and Wesley, two step grandchildren; Angela and Kelly (Curt), five great grandchildren, two sisters; Charlotte Thorson of Eleva and Virgil Tiffany of Elmwood, nieces, nephews, other relatives and friends. She is preceded in death by her parents, husband; Julius and one sister; Beulah Schutz.
Private family services will be held. A Celebration of Life will be held at a later date.
Rhiel Funeral Home & Cremation Services, Durand, is serving the family.