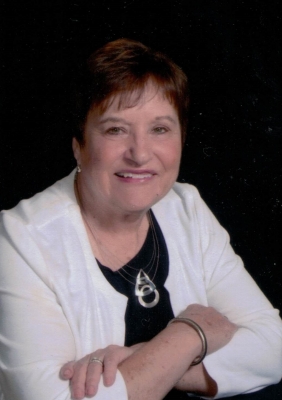 Marcia J. Weber, age 74 of Durand, died Tuesday, January 5, 2021 at Sacred Heart Hospital in Eau Claire.
Marcia was born on September 13, 1946 in Durand. She was the daughter of G.F. "Sam" and Ethel V. (Mulheron) Bauer. Marcia grew up in Durand and graduated from Durand High School in 1964. She married Larry Weber on October 3, 1964 at St. Mary's Assumption Catholic Church. Marcia and Larry lived in Durand, where they raised their eight children. Marcia was active in the church and community. Marcia enjoyed family gatherings, golf, and watching her grandchildren participate in music and sports. She was a master at Trivial Pursuit, card games, and enjoyed visits from family and friends. Marcia often repeated her mother's quote: "I am not lucky, I am blessed".
Marcia is survived by her husband of 56 years; Larry, children; Terri (Mike) DeMatteo, Todd (Amy) Weber, Trudi (Jody) Lane, Jenny (Jeff) Tulip, Joe (Jen) Weber, Jessi (Matt) Annis, all of Durand, Mark (Crystal) Weber of Oregon, WI and Mike (Sarah) Weber of Durand, 22 grandchildren; Matt (Evelyn), Ryan (Molly), Charlie, Savannah, Jake, Sarah, Ben, Corey (Sam), Rachel, Christopher (Miranda), Cody, TJ, Zachary, Brady, Luke, Isaac, Emily, Josh, Sydney, Grace, Audrey and Caroline two great grandchildren; Troy and Sophia, three sisters; Mary Jane (Butch) Brantner, Julie (Tim) Hoffman and Jan (Steve) Spindler, all of Durand, two brothers; Jerry (Sue) Bauer and James (Linda) Bauer, both of Durand, one sister-in-law; Karen (Ron) Spaeth, three brothers-in-law; Jack (Jane) Weber, Tim (Diane) Weber and Dave Gapinski, many nieces, nephews, other relatives and friends.
She is preceded in death by her parents, son-in-law; Troy Seffinga, two sisters; Marla Fedie and Myrna Gapinski, mother-in-law; Ruth Weber and sister-in-law; Norma Irish.
Public visitation will be from 12:00PM -1:30PM Tuesday, January 12, 2021 at St. Mary's Catholic Church in Durand, followed by a private funeral mass.
Rhiel Funeral Home & Cremation Services, Durand, is serving the family.