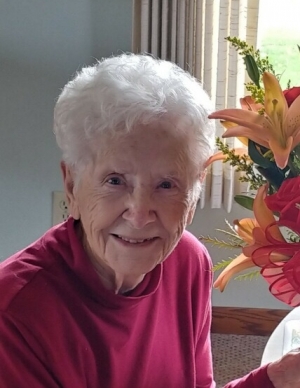 Hester L. Baier
Hester went to be with her Lord on January 10, 2021. She was 96 years old.
Hester was the daughter of Victor L. and Muriel (Throne) Soden. She was born in the town of Canton, Buffalo County, Wisconsin. She attended grade school on the Maxville Bluff. It was an uphill walk, but only one way. She graduated Durand High School in 1942 and then was a secretary for Ed Patterson a lawyer in Durand. On May 7, 1946 she married love of her life Wayne Baier St. Henry's Catholic Church in Eau Galle. They farmed and lived in Eau Galle the rest of their lives. She enjoyed the outdoors, her lawn, garden and flowers. She also loved to cook big family meals. Hester was also very proud of her Irish Ancestry. A lifetime member of the St. Henry's Parish and a member of the Rosary, Alter Society.
Hester is survived by her children Dorothy (Pete) Lehmann of Elmwood, Roger (fiancé Judy Hutter) of Eau Galle. Dennis (Beth) of Monrovia, CA, Pat (Ruth) of Mt. Horeb. 12 grandchildren, 24 great grandchildren and 3 great great grandchildren.
Hester was preceded in death by her parents, husband Wayne, her daughter-in-law Orpha Baier, 3 sisters, Mary Fredrickson, Lauren Wekkin, Dorothy Soden. 4 brothers, John, Robert, Pat and Victor, Jr.
She loved her family dearly. May she rest in peace.
Private Funeral Mass will be held.
In lieu of flowers, memorials are preferred to the charity of your choice in Hester's name.
Rhiel Funeral Home & Cremation Services, Durand, is serving the family.