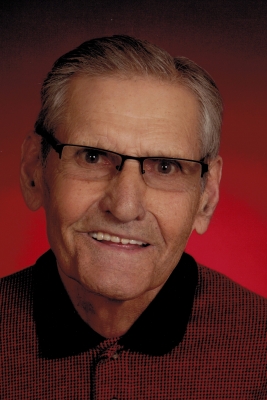 Guy "Bud" A. Miller age 92, formerly of Rice Lake, passed away on Saturday January 16, 2021 at Welcome Home Assisted Living in Elmwood.
Bud was born April 6, 1928 in Durand. He was the son of Guy H. and Hazel (Liddy) Miller and grew up in Durand, graduating from Durand High School. Bud served in the U.S Army for four years after WW II. Bud married Mildred J. Bauer June 2, 1954 at Holy Rosary Catholic Church-Lima, Durand. Bud worked as a Pepin County Traffic officer for a few years. He then became a Driver Improvement Analyst and Examiner for the Wisconsin Motor Vehicle Department, retiring after more than 30 years. Bud and Millie moved to Rice Lake in 1966 and made their home in the Rice Lake Community until 2019 when they moved to Welcome Home Assisted Living in Elmwood, where Bud remained the rest of his life.
Bud was an American Legion Member, a member of the Knights of Columbus and a Past Grand Knight. He always enjoyed fishing and hunting with his sons. He had several hobbies including, saw sharpening, bee keeping, hunting for ginseng, tying jigs, gardening and recanning furniture. Bud and his wife, Millie of 66 years, did much traveling, including Europe, Alaska, Hawaii, Mexico and all of the United States.
Bud is survived by his wife, Millie; three sons, James "Jake" (Teresa) of Sanibel, FL, John (Jane) of Menomonie, Charles "Chuck" (Diana) of Wausau; ten grandchildren and three great grandchildren, several nieces, nephews, other relatives and friends.
He is preceded in death by an infant daughter, Joanie, his parents, his sisters, Romelle (Don) Sommers, Ruth Everett and Donna Steen.
Memorial Mass will be held at 11:30 AM Wednesday January 20, 2021 at St. Mary's Catholic Church in Durand with Rev. Emmauel Asamoah~Bekoe officiating. Burial with Military Honors provided by American Legion Post 181 of Durand, will be in the church cemetery immediately after the service.
Visitation with facial masks and social distancing will be held one hour prior to services at the church on Wednesday.