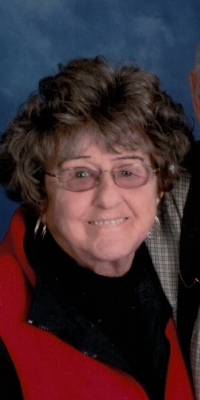 Blanche J. Radle, age 86 of Arkansaw, died peacefully on Sunday, January 17, 2021 at Sacred Heart Hospital in Eau Claire with her family by her side.
Blanche was born on February 15, 1934 in Durand. She was the daughter of Albert and Mary Bauer and grew up in the Lima community. Blanche graduated from Sacred Heart High School in Lima in 1952. She was employed at Wisconsin Bell Telephone Co. in Eau Claire from 1952 to 1958. On January 11, 1958, Blanche married Harvey Radle at Holy Rosary Catholic Church, Lima. Blanche and Harvey farmed in Arkansaw until their partial retirement in 1995. She took pride in her children and loved being with her grandchildren. Blanche was an active member of St. Joseph Catholic Church in Arkansaw where she taught CCD for 38 years. She was active in St. Anne's Altar Society, was minister of Eucharist, lector and member of the church choir. Blanche also participated in all of her children's activities and sports at school.
Blanche loved to take her grandkids on hikes to Toad's Peak and her grandkids will always remember her spoiling them with pizza, ice cream and a drawer full of candy and chocolate. She loved the beauty of nature, gardening and flowers. Her family, faith and friends were her priorities.
Blanche is survived by her husband of 63 years, Harvey; children Randy (Pat) of Menomonie, Rod (Deb) of Plum City, Curt (Sharlene Dock) of Durand, Chris (Dana) of Arkansaw, Wayne of Arkansaw and Mary (Larry) of Lake City, MN; 10 grandchildren Lindsey, Derek, Logan, Lawton, Lexie, Autumn, Zoey, Maisie, Riley and Josie; Three great grandchildren Kiya, Poppy and River; three sisters; Veronica Caturia, Joan Sweeney and Karen Rubesch; Special friend, Eileen Kitzerow; many nieces, nephews, other relatives and friends. She is preceded in death by her parents, Albert and Mary; brothers Jerome and Benedict Bauer; one sister Rita Bauer; nephews Gregory Sweeney and Jeff Bauer and niece Becky Sweeney.
Public visitation will be 10:00AM – 10:45AM Thursday, January 21, 2021 at St. Joseph Catholic Church in Arkansaw. Private family mass will be held. A Celebration of Life will be held at a later date.
Rhiel Funeral Home & Cremation Services, Durand, is serving the family.