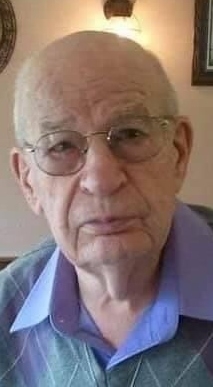 Jack B. Sampson age 92, of Menomonie, died Monday February 22, 2021 at The Neighbors of Dunn County in Menomonie.
Jack Sampson was born February 19, 1929 in East Grand Forks, MN the son of Bruce and Nellie (Dahl) Sampson. Jack grew up mostly in East Grand Forks but also lived in Alaska and Washington growing up. After the completion of the 11th grade, Jack enlisted in the United States Marine Corps. Jack served in the Marines from 1946 to 1949 and was stationed in California, China, and Guam and attained the rank of Buck Sergeant. Jack met Lois E. Huset in 1949 and where married January 15th, 1950.
Jack attended the University of North Dakota in Grand Forks from 1949 to 1954, graduating with a Bachelor of Science Degree with a double major in Industrial Arts and Geography. Upon graduation, Jack received an offer to teach Industrial Arts and Geography in Cavalier, ND. Jack taught in Cavalier until June of 1956. Jack left Cavalier to teach Industrial Arts in Park Rapids, MN. He also served as Department Chairman of the Industrial Arts Department.
During the summers of 1954-1957, Jack attended Stout State College and earned his Master's Degree in industrial Education in 1957. In August of 1957, Jack began teaching at Stout State College. In 1960 Jack was offered a graduate assistantship at the University of North Dakota to do graduate work for a doctoral degree. Jack spent 1960-61 school year and three additional summers as a graduate assistant and received his doctor's of education degree in 1966.
Jack's tenure at Stout covered 33 years. He taught general shop, hand woodworking, fluid and mechanical power for the Technology Dept., distribution courses for the Business Dept., supervised student teachers for the Industrial Education Dept. and graduate courses for the Education Dept.
In 1962 he received an outstanding teaching award. In 1987 he received the Phil Ruehl Prime Mover Award. He was named a Dahlgren Professor for 1988-90.
Jack was active in Boy Scouts where he held several leadership roles. He served as an assistant Scout Master and his involvement earned him the Silver Beaver Award. Jack taught Sunday School at Our Savior's Lutheran Church for 17 years and served as Sunday School Superintendent for several years.
After the death of his wife, Lois in 2007, Jack met and married Lois Dahms. They were married five years until her death. Jack then met and married Marlys Stribling October 12, 2013.
Jack will probably be most remembered by his "Make Your Day Guy" programs, where he brought humor and inspiration to many through his songs and stories.
Jack is survived by his wife Marlys, two sons, Jay (Deb) of Rhinelander, Bruce (Cheryl) of Colfax; step-daughter, Valerie (Richard) Stone of Alexandria, MN; grandchildren, Jacob, Nathaniel, Thomas, Jack, Courtney, Joshua, Steven and Kari; several great grandchildren, nieces, nephews, other relatives and friends.
He is preceded in death by his parents, his first wife Lois, his second wife, Lois Dahms; three sisters, Norma Homme; Madeline Warehouse and Alma Lein.
Due to Covid-19, private Funeral services will be held. Jack's funeral service will be livestreamed on Saturday February 27, 2021 at 1:00 PM on the Christ Lutheran Church Facebook page.