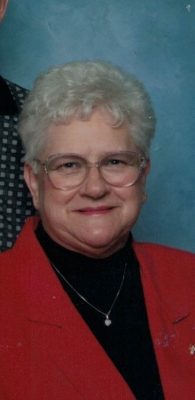 Jane A. Pittman, age 84 of Durand, formerly of Arkansaw, died Monday, March 1, 2021 at the Plum City Care Center in Plum City with her family by her side.
Jane was born on October 31, 1936 with her twin brother, Duane, in Pepin County. She was the daughter of Dale and Isabelle (Caturia) Myers and graduated Arkansaw High School. Jane married Cyril Pittman on July 6, 1954 at St. John the Baptist Catholic Church in Plum City. After marriage, Jane and Cyril farmed and raised their family in the Little Arkansaw Valley. She had her own ceramic shop out of her home for over 22 years, Jane also worked at Roger's IGA and the Pepin County Senior Center in Durand.
Jane enjoyed traveling, making trips all around the world including New Zealand, Hawaii and Canada. She attended many family and military reunions in the upper mid-west. She also like to go camping, quilting, square dancing and bowling. Most of all, Jane loved to spend time with family and friends.
Jane is survived by her children, Steven (BeBe) of Leesburg, VA and their children Jennifer, Jessica and Jillian; Debbie (Michael) Moody of River Falls and their children Andrew and Holly; Donna (Ervin) Lauer of Arkansaw and their children Kimberly and Joseph; Carole Jean (Rodney) Baier of Eau Galle and their children Steve, Kayla and Sarah; Daniel (MaryJo) of Arkansaw and their children Casandra and Jordan; Gary (Deceased) children, Ashley, Eric and Amanda, Dale (Michelle) of Durand and their children Jake, Rachel, Brett and Bryce and Kelly (Steven) Verrall of La Crosse and their daughter Kori, 19 great grandchildren, four sisters, Nina Bechel, Barb (Richard) Hartung, Issy Schoop and Lois (Ron) Charen; two brothers, Jack (Bonnie) Myers and Ben Myers, nieces, nephews other relatives and friends. She is preceded in death by her husband, Cyril and son, Gary.
"The Lord is my Shepard; He lays me down by my husband Cyril, and son Gary, and covers me with green grass."-Jane Pittman
Private Funeral Mass will be held 11:00AM Friday, March 5, 2021 at St. John the Baptist Catholic Church in Plum City. Rev. Joseph Okine-Quartey will officiate. The service will be live-streamed on the Rhiel Funeral Home Facebook page, https://www.facebook.com/rhielfuneralhome. Burial will be in St. Joseph Catholic Cemetery in Arkansaw. Public Visitation will be held from 10:00AM until the time of services at the church on Friday.
Rhiel Funeral Home & Cremation Services, Durand, is serving the family.