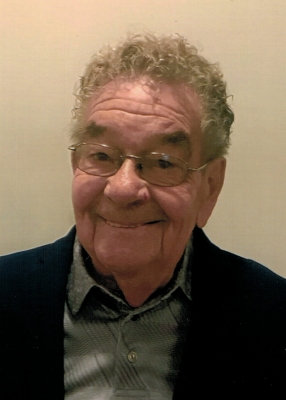 Nolan "Shorty" L. DeMarce age 87 of Elmwood, passed away peacefully on Saturday March 6, 2021 at his home surrounded by his family.
Shorty was born October 11, 1933 in rural Elmwood to parents, Lynn and Helen (Weber) DeMarce. He spent his youth in the Elmwood area where he graduated from Elmwood High School. In December 1951, he joined the U.S. Air Force, where he served in the Korean War. After the service, Shorty returned to Elmwood to marry his high school sweetheart, Janet Claflin on August 25, 1953.
Shorty and his father, Lynn, started a family business, "DeMarce TV & Cable" and ran it for over 45 years. He was very active in the Elmwood community. Shorty served as the Fire Chief for 35 years, member of the American Legion, President of the Elmwood Food Pantry, member of the Booster Club, Elmwood Rod & Gun Club. Shorty was a member of the football "chain gang" for 50 years. He was an active member of the United Methodist Church and he announced the UFO Days parade for many years.
Shorty's passion was following all of his grandkids events, woodworking, traveling and remodeling for his family and friends.
He is survived by his beloved wife Janet of 67 years; his children, Deb (Rick) Micek, Sue (Wayne) Stashek, Mike (Cris Dancker), Renee (Jim) Conway, Jeff "Gup" (Holly); 10 grandchildren, 10 great grandchildren; sisters, Joan Lecheler, and Terry Lynn (Steve) Milliren; in-laws, Carol Lierman, Linda (Will) Jeffrey, Roger (Ilene) Claflin; many nieces, nephews, other relatives and friends.
Shorty is preceded in death by his parents, brothers-in-law, Albert Lecheler, Roy Lierman, Kenneth Claflin and sister-in-law, Ardeth Claflin.
The family would like to thank the Mayo Clinic Home Health and Hospice for the wonderful care that they have received.
Due to Covid-19 restrictions, private family services will be held at 11:00 AM Friday March 12, 2021 at the United Methodist Church in Elmwood. The funeral services will be Livestreamed at: https://youtu.be/fxDJiIDTWbE. Burial will be in the Poplar Hill Cemetery with military honors provided by the Crain-Ottman American Legion Post 207 of Elmwood.
Public visitation will be held from 4:00 to 7:00 PM Thursday at the Rhiel Funeral Home in Elmwood. Social distancing and facial masks will be required.