Debra "Debbie" J. Van Hove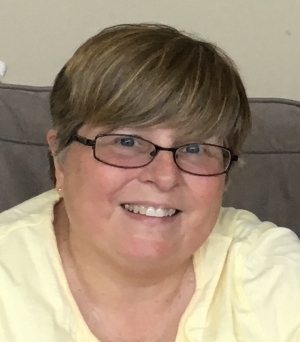 Debra "Debbie" J. Van Hove age 59, of Menomonie, passed away on Tuesday March 23, 2021 at Mayo Clinic Health System-Red Cedar, in Menomonie, WI.
Debbie was born April 3, 1961 in Menomonie, WI. She was the daughter of Joseph R. and Dorothy L. (Schroeder) Wolf and grew up in Menomonie. Debbie graduated from Menomonie High School in 1979. During high school she began working at Dicks Red Owl as a co-op student/cashier, retiring after 31 years of employment in a variety of job roles. Debbie also attended and graduated from U.W. Stout in 1983 with a degree in Early Childhood Education. Debbie married the love of her life, John Van Hove, August 28, 1993 at St. Joseph Catholic Church in Menomonie.
Debbie enjoyed spending time with her family, and was very proud of her grandchildren. She enjoyed Corvette adventures with friends, especially waving her badger hand to people in parades. She adored her two fur babies Keesha Marie and Karley Sue. She also enjoyed doing craft work, decorating and sending cards, as well as decorating the yard with festive lights for all seasons.
Debbie is survived by her husband John, a daughter, Susan (Jeff) Burton of South Lyon, MI; two grandchildren, Savannah and Jonathan; one brother, Gary (Patti) Wolf of Menomonie; one nephew, Andrew Wolf; two nieces, Jenni and Anna Wolf, other relatives and friends.
She is preceded in death by her parents and a son-in-law, Bryan Okonkowski.
Visitation will be held from 1:30 PM Tuesday until the time of the services on Tuesday.
Memorial services will be held at 3:00 PM Tuesday March 30, 2021 at St. Joseph Catholic Church in Menomonie with Rev. John Mano officiating.
The memorial service will be Livestreamed on the Rhiel Funeral Home Facebook page.
In lieu of flowers, memorials are preferred to the Dunn County Humane Society.
Facial masks and social distancing will be required.