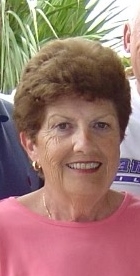 Elinor E. Hofbauer, age 90 of Durand, WI formerly of Overland Park, KS, died Thursday, April 22, 2021 at the Heritage Court Memory Care in Eau Claire, WI.
Elinor was born on October 25, 1930 in Detroit, Michigan. She was the daughter of Henry and Lillian Morgan. Elinor grew up and graduated high school in Detroit. She married Albert Hofbauer on September 12, 1953 in Detroit. After marriage, they lived in Detroit where they started their family. They moved with Albert's job with Allstate Insurance over the years and ended their career in Overland Park, KS. After the passing of Albert, Elinor moved to Durand to be closer to her daughter.
Elinor enjoyed gardening, sewing, knitting and crocheting. She loved to spend time with her grandchildren and great grandchildren, especially attending their events.
Elinor is survived by her children, Tom (Darlene), Kathy (Tom) Gianforte, Jim (Brenda) and Brian (Kathi); 11 grandchildren, nine great grandchildren, other relatives and friends. She is preceded in by her parents and husband, Albert.
Private family services will be held at a later date at Ft. Leavenworth National Cemetery in Kansas.
Rhiel Funeral Home & Cremation Services, Durand, is serving the family.