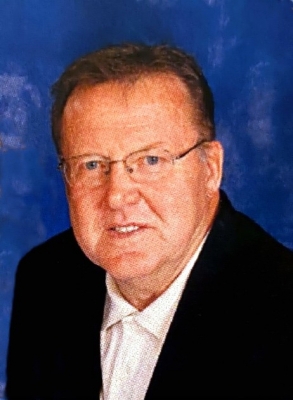 Dennis Lamoyne Carothers, 79, of Chippewa Falls, Wisconsin, passed away on April 24, 2021 after sudden cardiac arrest.
Dennis, known as Denny by friends and family, was born on December 7, 1941 to Kenneth and Norma (Thompson) Carothers in Durand, Wisconsin. After graduating from Durand High School in 1960, he joined Glaus Construction Company as a carpenter. In 1962 he joined the United States Navy and graduated from the Naval Machinist's Mate "A" School before boarding and serving on the USS Samuel N Moore (DD-747) destroyer where he served during the Vietnam War until 1966.
After serving his country, he began work for National Presto Industries in 1966 as a millwright where he worked for 47 years until his retirement in 2013.
He met Donna Brantner when they were still teenagers, and they wed on April 30, 1966, going on to have two sons, Troy Carothers and Todd Carothers.
Denny sang with Donna in the St. Joseph's Catholic Church choir for over 25 years with their close friends from the parish. Denny enjoyed a variety of outdoors activities for all of his life including hunting, fishing, and golfing. Denny had a strong passion for the Green Bay Packers and football in general. He and his sons played on a slow pitch softball team for several years with Donna in the stands to cheer. This connection and time with family was something Denny always cherished.
Denny loved people and his friendliness and warm heart were constantly on display. He could strike up a conversation with anyone and his ability to listen allowed him to find connections even with perfect strangers. He was a strong supporter to his sons who were so fortunate to grow up with a role model for living life.
Denny was preceded in death by his parents Kenneth and Norma Carothers and his brother Larry Carothers. He is survived by his wife of 55 years Donna Carothers, his son Troy Carothers and his kids Carly, Claire, Paris and Clayton, his other son Todd Carothers (Lisa) and his kids Evan and Sean, his sister Bev Fichtenbauer (Ray), his sister Connie Weiss (Ron), and his brother Kent (Kellee).
Funeral services will be held at 11:00 a.m. Friday, April 30, 2021, at St. Joseph's Catholic Church in Rock Falls, with Father Timothy Welles officiating. Burial will be at St. Joseph's Catholic Cemetery in Rock Falls.
Friends and family may call from 4:00 to 7:00 p.m Thursday, April 29, 2021, at Rhiel's Funeral Home in Durand where there will be a 4:00 p.m. rosary. Viewing can also be done Friday one hour prior to services at the church.
Rhiel Funeral Home & Cremation Services of Durand is serving the family.