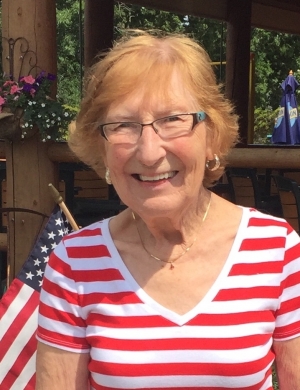 Myrna Elizabeth (Kane) Raethke was born on September 29, 1938 to Anna and Myron Kane in Plum City, Wisconsin. Myrna passed away peacefully on April 30, 2021 at the age of 82. She was the youngest of the three Kane sisters, joining older sisters Shirley and Bonnie, and half-siblings Ed Knight and Lucille Knight Hacker.
Myrna attended St. John the Baptist Catholic School for her elementary years, and later Plum City High School, where she was known for her beautiful singing voice, gentle smile and happy demeanor. After high school graduation, Myrna moved to St. Paul and worked in the insurance industry for several years.
Myrna met the love of her life, Glen Raethke, in the spring of 1959, and after a six-week courtship they were engaged. They married on November 7, 1959 and celebrated 51 years of marriage before she lost Glen in 2011.
Myrna's greatest pride was in the family she and Glen built together. They had six children - Jeff (Michele), Jon (Julie), Peggy, Chuck (Lisa), Carrie (Mario) and Greg. She and Glen moved to the family farm in 1962, and spent the next decades working side by side, raising their kids, building their family farming business, and making an exceptional life together. She would regularly say how very blessed she was, with an amazing life on the farm, in such a beautiful part of the country.
Myrna and Glen enjoyed traveling to all corners of the U.S. to visit friends and relatives, as well as taking several bus trips with other farm couples. Myrna also loved Country Music, especially Charley Pride and Alabama, and they made numerous trips to Nashville and various locations to attend Country Music concerts.
Myrna was a woman of many interests and talents. Along with her sewing, travel and music interests, Myrna enjoyed genealogy, calligraphy, letter writing, dancing, gardening, decorating, remodeling, and routinely donated blood to the American Red Cross. She also had a special place in her heart for her precious 4-legged companions: Laddie(s), Lassie, Jenny, Scruffy Jo, Katie Jo and Brownie. She loved to entertain family and friends, often hosting large gatherings or simply creating a meal on short notice for visitors stopping by. She was best known for her wonderful pies, breads, buns, and fruitcake. Everyone was welcome at her table. She was an incredibly loving, beautiful, strong and kind wife, mother, grandmother, sister, auntie and friend.
Myrna will be remembered for many things, but foremost for her happy demeanor, beautiful smile and positive attitude, even through these past several difficult years. She approached it all with dignity, courage, and faith that she would eventually be reunited with her Glen.
Myrna was preceded in death by her husband Glen, parents, Anna and Myron Kane, her beloved sister Shirley Meacham and her husband Clifford, half-brother Edward Knight and his wife, Naoma, half-sister Lucille Hacker and her husband Jack, and great grandson Lincoln James Raethke.
Myrna is survived by her sweet sister Bonnie (Jim) Zeilinger; her six children, fourteen grandchildren (Maggie Raethke, Laura (Patrick) Groetsch, Jake (Tawna) Raethke; Cody (Jordan), Casey and Carson Raethke; Jessica (Peter) Keegan and Matthew Kane Weber; Ellie, Charlie and Claire Raethke; Chloe, Joe and James Raethke, and her six great-grandchildren: Morgan, William, Eva, Kane, Joselyn and Gracie.
Myrna's life will be celebrated on Saturday, May 8th at St. John the Baptist Catholic Church in Plum City, Wisconsin. Visitation will be held at 9:30 a.m.; Mass at 11:00 a.m. Lunch to follow at Molly's on Main.
In lieu of flowers and plants, the family would like to encourage donations to the Ave Maria Academy in Plum City, WI or the American Red Cross.
Rhiel Funeral Home & Cremation Services, Durand, is serving the family.