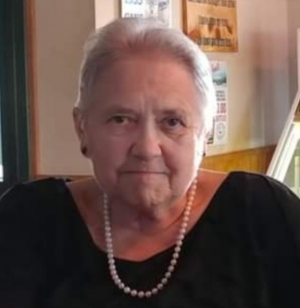 Violet A. Pichler, age 80 of Durand, died Thursday, May 6, 2021 at the Mayo Clinic Health Systems-Eau Claire with her family by her side.
Violet was born on July 4, 1940 in Arkansaw. She was the daughter of Alfred and Irene (Rose) LaPean and graduated from Arkansaw High School in 1958. After high school, Violet worked for a couple years in the Twin Cities. Violet met the love of her life, Wilbert Pichler, at the Prairie Inn in Durand. They were married on July 2, 1960 at Holy Rosary Catholic Church-Lima in Durand. After marriage, Violet and Wilbert farmed and raised their family in the Town of Lima where Violet worked as a cook at the Lone Pine. Violet and Wilbert eventually purchased the Lone Pine where she was well known for her potato dumplings. She worked for Hoepner's Bakery in Eau Claire for many years. Violet then cooked at Club 10 for several years before retiring.
Violet enjoyed camping, fishing, playing cards, trips to the casino and bingo. She also liked gardening and canning. Most of all, Violet loved to spend time with family and friends, especially her grandchildren.
Violet is survived by her husband of 60 years, Wilbert; her five children, Lonnie (Cindy) of Appleton, Lorna (Matt) Nelson of Menomonie, Doug (Jolene) of Eau Claire, Valli (Robb) Sarasin of Durand and Corey (Deanna) of Elk Mound; 12 grandchildren, 15 great grandchildren, two great great grandchildren, one brother, Bernard (Linda) LaPean of Menomonie; two sisters, Jean Fredrickson of Oconomowoc and Janice (Jerry) Snider of Chippewa Falls; sister-in-law, Pam LaPean of Hudson; nieces, nephews, other relatives and friends. She is preceded in death by her parents, son and daughter-in-law, Greg and Brenda Pichler; two brothers, Bob and Larry LaPean and brother-in-law, Bill Fredrickson.
Visitation will be held 4:00PM-7:00PM Tuesday, May 11, 2021 at the Rhiel Funeral Home in Durand.
Rhiel Funeral Home & Cremation Services, Durand, is serving the family.