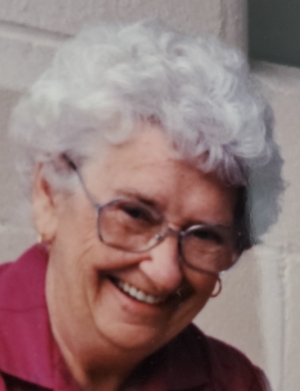 Doris H. Kirkland, age 95 of Menomonie, died Saturday, May 8, 2021 at the Comforts of Home in Menomonie.
Doris was born on January 30, 1926 on the family farm in rural Menomonie. She was the daughter of William and Julia "Nellie" (Hohlbein) Kirkland and graduated from Dunn County Aggie. After high school, Doris worked on the family farm and Bark's Bakery in downtown Menomonie. She worked at Bark's Bakery until it closed. Doris then took a job as the baker at The Kernel restaurant in Menomonie, baking all their pies and cinnamon rolls. Doris retired from The Kernel, moved into the City of Menomonie where she remained the rest of her life.
Doris was a lifelong fan of the Milwaukee Braves and continued following them in Atlanta. She also enjoyed watching the Milwaukee Brewers and the Green Bay Packers. She liked knitting, especially baby afghans. Doris' passion for baking continued at home and was known for always having her cookie jar full wonderful cookies and other baked goods for family and friends. Doris always took the time every week to mail all of her nieces and nephews updates about how her previous week had went and always sent along a piece of gum and a stamp.
Doris is survived by her sister, Janet Zitelman of Menomonie; nieces and nephews, Dawn (Mark) O'Brien of Centreville, VA, Jim Scholfield Jr. of Menomonie, Susan (Mark) Kunz of Galesville, Brian (Pamela) Zitelman of La Crosse and Bruce (Mindy Swanson) Zitelman of Machesney Park, IL; six nieces and nephews, other relatives and friends. She is preceded in death by her parents, one brother, Harlan Kirkland and one sister, Avis Scholfield.
Memorial Services will be 1:00PM Sunday, May 16, 2021 at the Rhiel Funeral Home in Menomonie with Rev. Wendy Slaback officiating. Burial will follow in the Froen Cemetery. Visitation will be from 12:00PM Noon until the time of services at the funeral home on Sunday.
In lieu of flowers, memorials may be made in Doris' name to the Menomonie United Methodist Church.
Rhiel Funeral Home & Cremation Services, Menomonie, is serving the family.