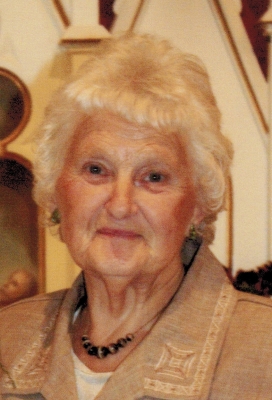 On May 11, 2021, Lavonne Lehmann received her wings and went to walk with the angels. She passed away peacefully on Tuesday, at the age of 85 at the Heritage of Elmwood Nursing Home.
Lavonne was born on April 13, 1936 in Plum City to the late Otto and Lucille (Rice) Kaempf. She graduated from Plum City High School in 1954. Lavonne was united in marriage to Richard Lehmann on March 5, 1957 and together they built their family while living on a farm on Highway 72. They enjoyed 29 years together until Richard passed on September 11, 1986. Since Richard's passing Lavonne has been a long time resident of Elmwood, WI. She worked at the Elmwood Veterinary Clinic from 1987 to 2016.
Lavonne's life revolved around her faith, family and friendships. She was a devout Christian and a kind-hearted women. Lavonne was strong, determined and fiercely independent. Any chance to spend time with her family was important to her; she especially loved holidays and family get-togethers. Lavonne was a loving mother, grandmother and great-grandmother and was always there for her family. She enjoyed trips up north to Tomahawk to visit family, visiting with her friends, playing cards; she loved to can, grow berries, tend to her gardens and house plants, cook and make desserts, crochet, read the bible, listen to religious music, as well as partake in homemaking. Her kind and generous heart will always be remembered.
Lavonne is lovingly remembered by her six children: Rick Lehmann, Randy (Vickie) Lehmann, Roger (Jeanne) Lehmann, Patty (Jeff) Branch, Sue (Don) Kleich, Rob (Angie) Lehmann.
Her brothers and sisters: Larry (Harriet) Kaempf, Marlo (Sam) Kaempf, Linda Johnson, Dianne (Jerry) Hancock and Dan Kaempf.
She was a wonderful grandmother to 17 grandchildren: Ryan (Mattia) Dix, Ross Dix, Jessica (Dustin) Wegner; Tory (Toby) Auth, Derek (Becky) Lehmann; Rachel (Chris) Robelia, Renee (Kevin) Bauer; Dani (Adam) Stuhr, Kathy Branch, Steph Branch, Tom Branch; Andrew (Jea) Kleich, Ashley (Marcus) Callahan, Sam Kleich, Mikhayla Kleich; Reid Lehmann and Rowen Lehmann. In addition a great-grandma to 19 great-grandchildren.
She is preceded in death by her parents Otto and Lucille Kaempf, her stepfather Guy Lostetter, husband Richard, her grandson Shawn, and great grandson Macin.
The family wishes to extend their gratitude to Heritage of Elmwood Nursing Home and St. Croix Hospice for their loving care of Lavonne.
Funeral services will be held at 11:00 AM Saturday May 15, 2021 at St. Peter's Lutheran Church in Elmwood. Due to Covid-19, facial masks will be required. Visitation will be held one hour prior to the services at the church. Burial will follow at Weber Valley Cemetery. A picnic style lunch will be held immediately after burial services at Butternut Park in Elmwood.
Friends and family may visit at 10:00AM Saturday, May 15, 2021 at St. Peter's Lutheran Church. The funeral will begin at 11:00AM. Following the burial at the Weber Valley Cemetery the family will be providing lunch at Butternut Park in Elmwood, WI.