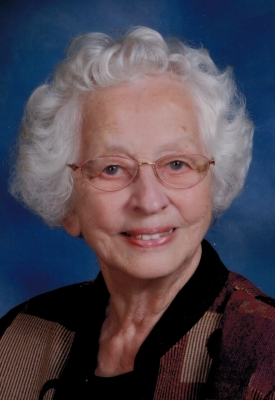 Betty Mae Olson, 93, passed away early Sunday morning, May 23, 2021, at Our House Assisted Living in Rice Lake, Wisconsin.
Betty was born on April 18, 1928 in Eau Claire, Wisconsin, daughter of George and Etta Shaw Wade. As a young child Betty lived in Eau Galle, Two Rivers and Elmwood, Wisconsin. Her mother passed away when Betty was only four years old. Her grandfather Henry Wade and older sister helped raise her.
Mom asked that we share this special excerpt of her life. "When I was nine years old and my sister Katherine was seventeen years old we lived with our father, George Wade, in Elmwood. We lived across the street from Truman and Belle Young and their family. The Youngs milked cows and bottled and sold milk in town. Our father, George, did not pay the necessary rent for the house and we were going to have to move out. Mrs. Young heard that we could no longer live there and suggested to my father that the Youngs would make a home for me with them. Their only daughter, Annie, had passed away at the age of eight years. My sister was going to make her home with a family in the country. I was so fortunate to be welcomed into a good Christian home. Mrs. Young was 56 years old and needless to say the addition of a lively nine year changed her normal quiet household. Belle enjoyed having a daughter and she was the mother I needed."
Betty graduated from Elmwood High School in 1946. On June 6, 1949 she was united in marriage to that handsome farm boy, Leonard Eric Olson, in the Elmwood Methodist Church. On their 80 acre farm they raised four children, a few cows, pigs, chickens, sheep, and a huge garden. Betty canned or froze everything from beans, corn, cukes, beets, peaches, apples, cherries, berries to grape juice. Betty and Leonard planted hundreds of glads and calla lilies and provided flowers for their Rock Elm Methodist Church ice cream socials. Betty was a great cook and baker and made four pies and two cakes for those socials as well.
Betty worked at Bergman Implement and the Creamery before marriage. Leonard and Betty raised four children. Can you imagine a three year old, a two year old and twins? Betty went back to work outside the home in 1964. She was employed at the Elmwood First State Bank for 29 years. Betty was a member of the Elmwood Alumni Association, Enrichment Council, and Rock Elm Ladies Aid and was the church financial secretary.
Betty is survived by her children, Barbara (Jerry) Sinz, of Edgar, Bruce Olson of, Elmwood, and Brenda Davidson (John Holst) of Cumberland and daughter-in-law, Joyce Olson of Kaukauna, her loving grandchildren; Jason (Amber) Sinz, Jeremy (Tracey) Sinz, Jordan (Stephanie) Sinz, Justin (Connie) Sinz, Wade (Bobbi Jo) Olson, Gretchen (Bill) Hammen, Tyler (Carissa) Olson, Chad (Anna) Fischer, Drew (Trish) Davidson; great grandchildren; Sophie, Celia, Tate, Jacob, Ella, Ilah, Cyri, Talen, Jora, Cami, Hunter, Shelby, Sadie, John, Autumn, Billy, Lucy, Eleanor, Theodore, Calvin, and Emerson.
Betty is also survived by her brother-in-law and sister-in-law, Neil and Marvel Olson, brother-in-law Floyd Olson and nieces, nephews, and friends.
Betty was predeceased by her parents, her husband, Leonard, her son, Barry, siblings Jordon, Naomi, Ruth and Katherine, bother-in-law and sister-in-law Tom and Norene Chase, sister-in-law Kathy Olson and brother-in-law Stanley Olson.
Private Funeral services will be 11:30 AM Friday May 28, 2021 at the Rock Elm United Methodist Church, rural Elmwood with Rev. Michael Weaver officiating. Burial will follow the services at Poplar Hill Cemetery, Rock Elm.
Public visitation will be held from 10:00 to 11:00 AM Friday at the church.