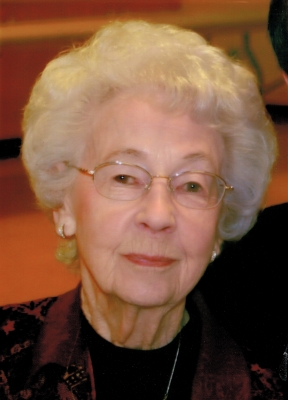 Norma C. Uetz age 98 of Menomonie, formerly of Elk Mound passed away on Wednesday May 26, 2021 at Mayo Clinic Health System-Red Cedar in Menomonie, surrounded by family.
Norma was born October 25, 1922 to George and Hazel (Bowser) Snittler, in her words, "in a little brown house in the Township of Dunn, Dunn County" (near Downsville, a few miles south of Menomonie). She graduated from Menomonie High School in 1940. Norma married Bill Uetz June 30, 1941 and were married for 77 years. After marrying, they raised their family and farmed on the Uetz family farm, 4 miles east of Menomonie until retirement. After retiring, they traveled to Seminole, FL for a number of years. Later in life they lived in Autumn Village Assisted Living in Menomonie. Norma then moved into the American Lutheran Home where she remained the rest of her years.
Norma was formerly active in past years as a member of St. Joseph Catholic Church, Moose Lodge, homemakers club, a birthday club and a card club. She enjoyed journaling, traveling, playing cards and in her early years dancing. Most of all, she thoroughly enjoyed her family.
Norma is survived by four sons Dan (Lynda), Richard (Dawn) and Joe all of Elk Mound, John (Kim) of Knapp, a daughter-in-law, Linda of Elk Mound; 11 grandchildren, 32 great grandchildren, three great-great granddaughter, nieces, nephews, other relatives and friends.
She is preceded in death by her parents, husband Bill in 2019, a three-year-old son, Michael in 1956, a son Tom in Feb. of 2021, a great granddaughter, Savannah; two brothers, Gaylord (as a child), Elzie "Swede" (Julia) Snittler, two sisters, Alta (Lawrence) Jensen, Sylvia (Arnold) Holman.
Her life will be celebrated along with her son Tom's Celebration of Life at 11:00 AM Saturday May 29, 2021 at the Uetz Family Farm on Hwy 12 east of Menomonie.
A private burial service will take place at St. Joseph Cemetery in Menomonie in the near future.
The family would like to thank the staff at Autumn Village, American Lutheran Home and Mayo Clinic-Menomonie, for the wonderful care given to Norma.