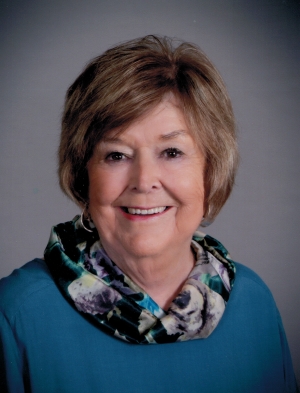 Elaine "Liz" M. Lammer, age 86 of Menomonie, passed away on Monday June 7, 2021 at The Neighbors of Dunn County in Menomonie, surrounded by her family.
Liz was born March 27, 1935 in Menomonie to James and Hilda (Hughes) Miller. She attended Coddington Elementary, graduated from Menomonie High School in 1953 and was Homecoming Queen in 1952. Liz attended the Minnesota School of Business in Minneapolis. Her first job was with Ford Motors in Hopkins, MN. Liz met Jim Lammer in high school, and they were married June 14, 1958. After marriage they settled in Menomonie and raised their two children.
Liz's life was all about her community. She was a highly active civic leader and business owner. Liz was a Realtor/Broker of Miller Real Estate for over 25 years. She served as President of the Dunn-Pepin Board of Realtors in 1993 and Realtor Political Action Trustee Committee in 2002. Liz developed Miller Junction and Pine Point Subdivision Kleist Landing. In 1996, she received the Small Business of the Year Award from the Menomonie Area Chamber of Commerce.
Liz's lifelong passion was helping restore downtown Menomonie. Her contribution to the lives of so many in the community included: serving as the President of the Board of Directors for Main Street Menomonie, 1989-2008; serving two terms on the Board of the Menomonie Chamber of Commerce; and serving on the Board and as Secretary of the Community Foundation of Dunn County, 1999-2005 as well as the Chair of their annual Travel Dinner and a member of their Founders Club. In addition, Liz was a member of the Historic Preservation Commission, the Hospital Auxiliary, and of the Giving Dolls group.
In 2003 Liz and Jim were awarded the Distinguished Citizens of the Year by the Menomonie Area Chamber of Commerce; In 2005 she was awarded the Spirit of Excellence.
Liz was an active member of St. Joseph Catholic Church where she served on the Parish Finance Council, served as Chairman/Vice Chairman for the St. Joseph Christmas Cookie Walk, and sang in the church choir and funeral choir for over 50 years.
Liz's hobbies included golfing and golfing trips, (had a hole in one at Hayward Golf Club) and fishing, but the love of her life were her children, grandchildren and great-grandchildren. She especially treasured watching all sports activities of her children and grandchildren. She had a vivacious personality and brought joy to her friends, who were a huge part of her life and helped create so many memories on Monday nights at Jakes, fun golf trips and Marco Island Florida getaways.
Liz is survived by her husband Jim of 63 years; her daughter Julie Lammer (Tom); son Greg Lammer (Brook); grandchildren, Bradley (Chelsea) Obermueller, Brianna (Ryan) Schimek, Jaime Lammer, Jordan Lammer, Jenna (Jake) Knotek; step grandchildren, Brittni & Kegan Meyer, Luke and Sarah Jenkins; great grandchildren, Sawyer, Quinlynn, Tenley, Greyson, Poppy and Benjamin; sisters, Bonnie (Bob) Holt, Patty Miller; Brother-in-law, Elwood" Woody" Bilse; many special nieces and nephews.
She is preceded in death by her parents, a sister, Barb (Dan) Berquuist; in-laws, Joann Bilse and John & Willa Lammer.
Liz's family would like to express their gratitude to the Cancer Team at Mayo Home Health & Hospice, Mayo Hospice nurses, Jennifer and Heather; Laura at the Neighbors of Dunn County and the wonderful staff who attended to Liz's care on her short stay and to her bedside friends, Jan Pierce and Jackie Hillman.
In lieu of flowers, memorials in Liz's name may be made to St. Joseph's Parish, Main Street Menomonie or the Community Foundation of Dunn County.
Memorial services will be held at 11:00 AM Tuesday June 22, 2021 at St. Joseph Catholic Church in Menomonie with Rev. John Mano officiating, burial will be in the church cemetery.
Visitation will be held from 9:00 AM Tuesday at St. Joseph's Church until the time of the service.