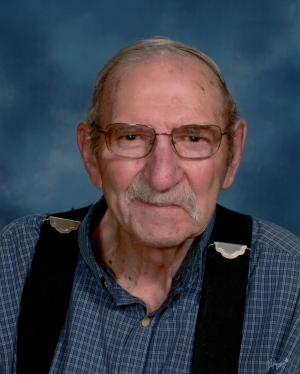 Lawrence E. "Larry" Reitz, age 88 of Durand, passed away Saturday, June 26, 2021 at the Heritage of Elmwood Nursing Home in Elmwood with his family by his side.
Larry was born on May 18, 1933 in Durand. He was the son of Elmer and Hazel (Bergeman) Reitz. He was baptized at St. Henry Catholic Church in Eau Galle. Larry grew up on the family farm in the Weber Valley, Town of Eau Galle, rural Elmwood. He attended the Weber Valley one room school, Eau Galle Public School and Durand High School. Larry worked for several farmers in the area before taking over the family farm in 1955. He married the love of his life, Shirley Moe on November 9, 1954 at St. Henry Catholic Church in Eau Galle. After marriage they farmed and raised their family on the family farm. Larry also drove cream truck for the Eau Galle Cheese factory and milk truck for Rex Dunbar. Together, Larry and Shirley farmed until 2000 when they retired and moved to Durand.
Larry liked to go hunting, fishing, trapping and playing cards. He also enjoyed helping his son, Jamie on the farm. Larry and Shirley took many bus trips across the country and he looked forward to trips to the casino. He also loved spending time with his large family and attending his grandchildren's events.
Larry is survived by his 10 children; David (Pam) of Elmwood, Maria (Gerry) Brantner of Eau Claire, Julie (Tom) Caturia of Prescott, Denis (Tracy) of Elmwood, Kevin (Teresa) of Elk Mound, Jamie of Elmwood, Doris (Kurt) VanSchoonhoven of Elk Mound, Edwin (Beth Kley) of Colfax, Chris (Andrea) of Glendale, AZ and Karin (Steven) Wolf of Elk Mound, 24 grandchildren; Steve (Jen), Jody (Jason), Katy (Delton), Amy (Luke), Geralyn, Rachel (Adam), Eric, Brianne, Jaycob, Janessa (Danny), Michael (Chelsea), Kennedy, Kevin, James (Jenna), Jenna (Klint), Jordan, Paige, Cassidy, Sydney, Carter, Abigail, Noah, Evan and Colin, nine step-grandchildren; Hannah, Blake, Megan (Forrest), Logan, Justin (Brittany), Joshua, Donovan (Amy), Cheryl, LeAnn (Ronnie), Brittany (Micah) and Ashley (Kody), 14 great grandchildren, 14 step-great grandchildren, one brother, Ronald Reitz of Elmwood, brother-in-law; Terry (Pat) Moe of Menomonie, sister-in-law; Betty (Gordie) Amick of Madison, nieces, nephews, other relatives and friends. He is preceded in death by his parents, wife; Shirley in 2014, sister; Lois (Duane) Bee and sister-in-law; Cleo Reitz.
Funeral Mass will be 11:00AM Friday, July 2, 2021 at St. Henry Catholic Church in Eau Galle. Rev. Jerry Hoeser will officiate. Burial will be in the church cemetery. Visitation will be from 4:00PM-8:00PM Thursday at the Rhiel Funeral Home in Durand and one hour prior to services at the church on Friday.
Memorials may be made in Larry's name to the Cystic Fibrosis Foundation, https://www.cff.org/.
Rhiel Funeral Home & Cremation Services, Durand, is serving the family.