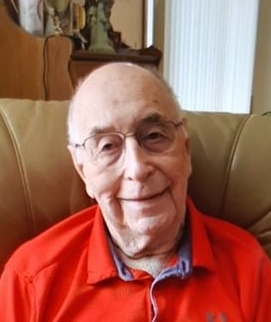 James H Gifford, age 93 of Durand, died Thursday, July 1, 2021 at Mayo Clinic Health Systems-Eau Claire with his family by his side.
Jim was born on January 31, 1928 in Town of Waterville, Pepin County. He was the son of James A. and Agnes P. (Hotter) Gifford. Jim grew up in the Little Plum Valley and Town of Union areas. He attended the Farm Hill Country School, Pepin County, Clipperdale Country School, Pierce County and Plum City High School. Jim married Clara Mae Kraft on September 26, 1950 at St. Mary Catholic Church in Durand. After marriage Jim was drafted into the U.S. Army, served in Korea during the Korean Conflict and was honorably discharged. After Korea, Jim and Clara raised their family in Milwaukee where Jim drove truck. Jim had bought a dump truck and started hauling lime before the Army. Jim and Clara moved to the southwest, where they managed a ranch in the White Mountains of Arizona, they also lived and worked with their son in New Mexico in the manufactured housing industry. For the last 25 years, Jim and Clara lived in the City of Durand, where Jim remained the rest of his life.
Jim was a member of St. Mary Catholic Church, the Knights of Columbus and the Durand American Legion Post #181 of Durand.
Jim is survived by his children, James of Albuquerque, NM, Julie (John "JD") Martinez of Albuquerque, NM, Ronald (Cindy) of Salem, OR, Scott (Gabriela "Gabby") of Albuquerque, NM grandchildren; Shannon Gifford, Jackson ("Jack") Gifford and Mason Gifford, step grandchildren; Matthew McKinley and Allison Turpen, great grandson; Brayden Gifford, step great grandchildren; Madeline, Augustine, John, Michael, Fiona, Hannah and Russell; one brother, DeWayne of Eau Claire; one sister, Sharon (Kenneth) Traynor of Elmwood; one brother-in-law, Robert Krogstad of Eau Claire, nieces, nephews, other relatives and friends. He is preceded in death by parents, wife, Clara; two sons, Larry Allen, Thomas John and numerous brothers and sisters.
Memorial Mass will be 11:00AM Wednesday, July 7, 2021 at St. Mary Catholic Church in Durand. Rev. Emmanuel Asamoah-Bekoe will officiate. Burial will be in the church cemetery. Visitation will be from 10:00AM until the time of services at the church on Wednesday.
Memorials are preferred in Jim's name to the Alzheimer's Association, www.alz.org or 1-800-272-3900.
Rhiel Funeral Home & Cremation Services, Durand, is serving the family.