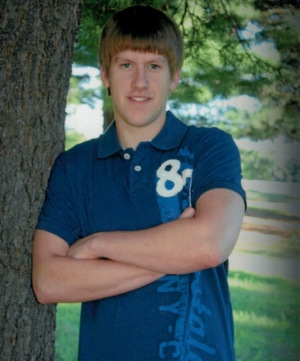 Brady J. LaPorte, age 26 of Durand, died Monday, July 5, 2021 at home in Durand.
Brady was born on October 24, 1994 in Eau Claire. He was the son of Troy LaPorte and Rhonda (Meixner) Kraft. Brady grew up in Durand and graduated from Durand High School. After high school, Brady attended Chippewa Valley Technical College to become a machinist. Brady worked in Eau Claire at Riverside Machine & Engineering before moving to Duluth, MN. While in Duluth, Brady worked in Superior at Exodus Global and the Duluth Humane Society. Brady was taking classes to become a marine biologist. In May, Brady moved home to be with family.
Brady loved to go on hikes and take photographs in the wild and hunting with his brothers and friends. Taking care of animals was Brady's passion in life. He also enjoyed gaming with friends, watching ufo shows with his grandfather and enjoying grandma's cooking and baking.
Brady is survived by his parents, Rhonda (Chad) Kraft of Durand, Troy of Durand; two brothers, Brett and Brandon, both of Durand; step-siblings, Brianna Kraft, Logan Kraft, Amber Nelson, Kristopher Cataract, Burgundy West and Brittany Larson; maternal grandparents, Dennis and LuAnn Meixner of Arkansaw; special friend, Olivia Hurst; aunts, uncles, cousins, other relatives and friends. He is preceded in death by his paternal grandparents, Ray and Kathy LaPorte.
Visitation will be held from 4:00PM-8:00PM Thursday, July 8, 2021 at the Rhiel Funeral Home in Durand. Burial will be 10:00AM Friday at Arkansaw Memorial Cemetery in Arkansaw.
Rhiel Funeral Home & Cremation Services, Durand, is serving the family.