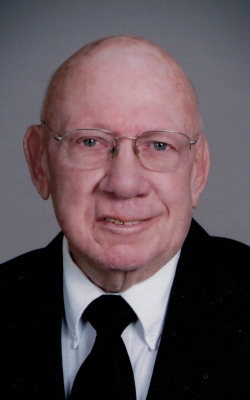 James Leonard Lammer age 84, of Menomonie, passed away on Monday, July 12, 2021 at Comforts of Home Memory Care in Menomonie.
Jim was born October 3, 1936 in Menomonie. He was the son of John and Frances (Milliren) Lammer. Jim attended St. Joseph elementary school and Menomonie High School. He graduated from the University of St. Thomas in St. Paul in 1958.
In June of 1958, Jim married Elaine Miller. From that union they were blessed with two children, Julie Ann and Gregory James.
After a short employment with Nabisco, Jim became the owner and operator of four liquor stores in Menomonie, L-Mart, Jim's Spirit Shoppe, Riverside Liquor and Junction Liquor. He was very active and supportive of all sports events involving Menomonie High School and the University of Wisconsin-Stout. In 1980 Jim received an Appreciation Service Award from Menomonie High School Athletics and in 1990 he was inducted in the Athletic Hall of Fame at the University of Wisconsin-Stout.
Jim believed in the old "give and get method" explaining his interest in becoming active in the community that served him well.
Jim served on the Board of Directors for House Calls, Indianhead Enterprises, Lions Club and the Menomonie Area Chamber of Commerce. He served as Chair of the Parking Commission, was an honorary member of the Sunrise Rotary Club and a charter member of the Stout Booster Club. Jim co-chaired the United Way 2006-2007 Campaign with Elaine. Jim also volunteered his time at Stepping Stones of Dunn County. In 2004, the Chamber of Commerce gave them the honor of being named Citizens of the Year. Jim said, "Tonight I feel like I just got the key to the City". Also Jim and Elaine were committed members of the Community Foundation of Dunn County and were founding members. Jim was a lifelong parishioner of St. Joseph Catholic Church in Menomonie and enjoyed his many years of ushering.
Jim is survived by his daughter Julie Lammer (Tom); son Greg Lammer (Brook); grandchildren, Bradley (Chelsea) Obermueller, Brianna (Ryan) Schimek, Jaime Lammer, Jordan Lammer, Jenna (Jake) Knotek; step grandchildren, Brittni & Kegan Meyer, Luke and Sarah Jenkins; great grandchildren, Sawyer, Quinlynn, Tenley, Greyson, Poppy and Benjamin; sisters-in-law, Bonnie (Bob) Holt, Patty Miller; Brother-in-law, Elwood" Woody" Bilse; many special nieces and nephews.
He is preceded in death by his parents, his wife, Liz (June 7, 2021), a brother, John (Willa) Lammer; a sister, Joann Bilse; in-laws, Barb (Dan) Berquist.
Jim's family would like to thank the staff of Heartland Hospice and Comforts of Home Memory Care, for the wonderful care given to Jim.
Visitation will be held from 3:00 to 5:00 PM Friday July 23, 2021 at the Rhiel Funeral Home in Menomonie. Burial will immediately follow the visitation at St. Joseph's Cemetery in Menomonie. A Celebration of Jim's life will follow the visitation at Dean and Sue's in Menomonie from 5:30 to 7:30 PM Friday.
In lieu of flowers memorials in Jim's name may be made to, Menomonie Athletic Booster Club, Inc., U.W. Stout Athletic Fund, Stepping Stones of Dunn County, Community Foundation of Dunn County.