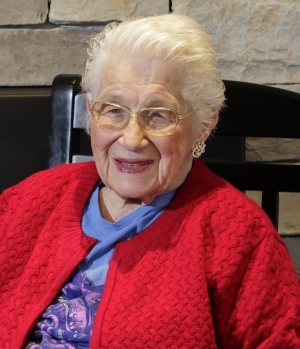 Helen Rose Wittig, age 97 of Hudson, formerly of Plum City, died Monday, July 12, 2021, at Red Cedar Canyon-Cedar Cove in Hudson.
Helen was born on July 13, 1924, in Durand. She was the daughter of Henry and Agnes (Berger) Brion. Helen grew up on a farm in the Town Maxville, rural Buffalo County and attended school in Nelson and Durand. After high school, Helen applied for and was accepted for a civil service job in Washington D.C. However, Helen turned down that job and married Joseph A. Wittig on November 15, 1944, in Durand. After marriage they farmed on the Wittig home farm in the Town of Lima and later moved to rural Plum City where they continued to farm and raise their family.
Helen enjoyed baking, cooking, gardening, playing bingo, sewing and taking care of her chickens. She was well known in the Plum City area for her raspberries and egg delivery. Helen liked to travel, go square dancing, being a silent card shark while playing cards and hosting parties. She was also a member of the Altar Society in St. John's and volunteering at the senior center. Most of all Helen loved spending time with her children, family and friends.
Helen is survived by her children, Janet Ardolf of Maple Grove, MN, Steven (Vickie) of Durand, Karen (Steve) Traynor of Zimmerman, MN, Diane (Mark) Collett of Prescott, Jean (Arnie) Maxwell of Afton, MN, David (Debbie) of Maiden Rock, Jerome of Plum City, Gloria (Bill) Link of Hayward, Rosemary (Rick) Jones of Woodbury, MN and Doris (Kevin) Weinzirl of River Falls; 23 grandchildren, 32 great grandchildren one sister, Henrietta Guillaume of Caledonia, MN; sister-in-law, Irene Brion of Durand, nieces, nephews, other relatives and friends. She is preceded in death by her parents, Henry and Agnes Brion; husband, Joseph; son, Roger (Julie), son-in-law, Duane Ardolf and two grandchildren, Anthony Collett and Matthew Collett.
Funeral Mass will be 10:30AM Saturday, July 17, 2021, at St. Mary Catholic Church in Durand. Rev Emmanuel Asamoah-Bekoe will officiate. Burial will be in St. John the Baptist Catholic Cemetery in Plum City. Visitation will be from 9:30AM until the time of services at the church on Saturday.
Rhiel Funeral Home & Cremation Services, Durand, is serving the family.